How to Spend One Day in Disneyland Paris
Learn how to best conquer the Disney parks when in Paris!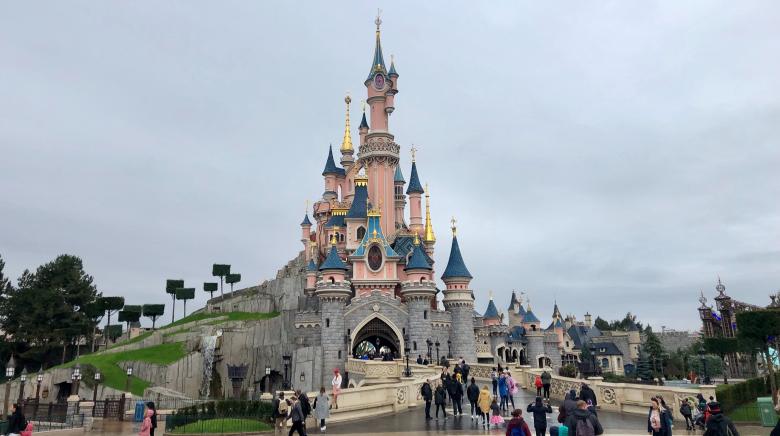 Bonjour! Welcome all Disney fans to a quick compilation on how best to spend a day in Disneyland Paris. 
I'm a huge Disney fan and recent grad in animation, so I was ecstatic to visit Disneyland Paris and see how it differed to the American versions. What was even better was that it was October and that means... Halloween decorations!
Overview
The park was first opened in 1992, with an additional park added in 2002, but plans for its creation were in progress since 1972.
Fun Fact! - People often ask why the castle is from Sleeping Beauty and not Beauty and the Beast, which is more famously "French", but it's because Beauty and the Beast wasn't released until 1991 and the park was already built by then!
Although other European countries were considered for the park, the town of Marne-la-Vallée was eventually picked for its easy proximity to millions of potential customers. The official name of the park was changed many times as the park went through initial money failures, but finally rested on the full complex being called Disneyland Paris.
There are four parts to the Disneyland Paris complex: Disneyland Park, Walt Disney Studios Park, the Disney Village, and the Disney Hotels.
Quick Tips
Fastpasses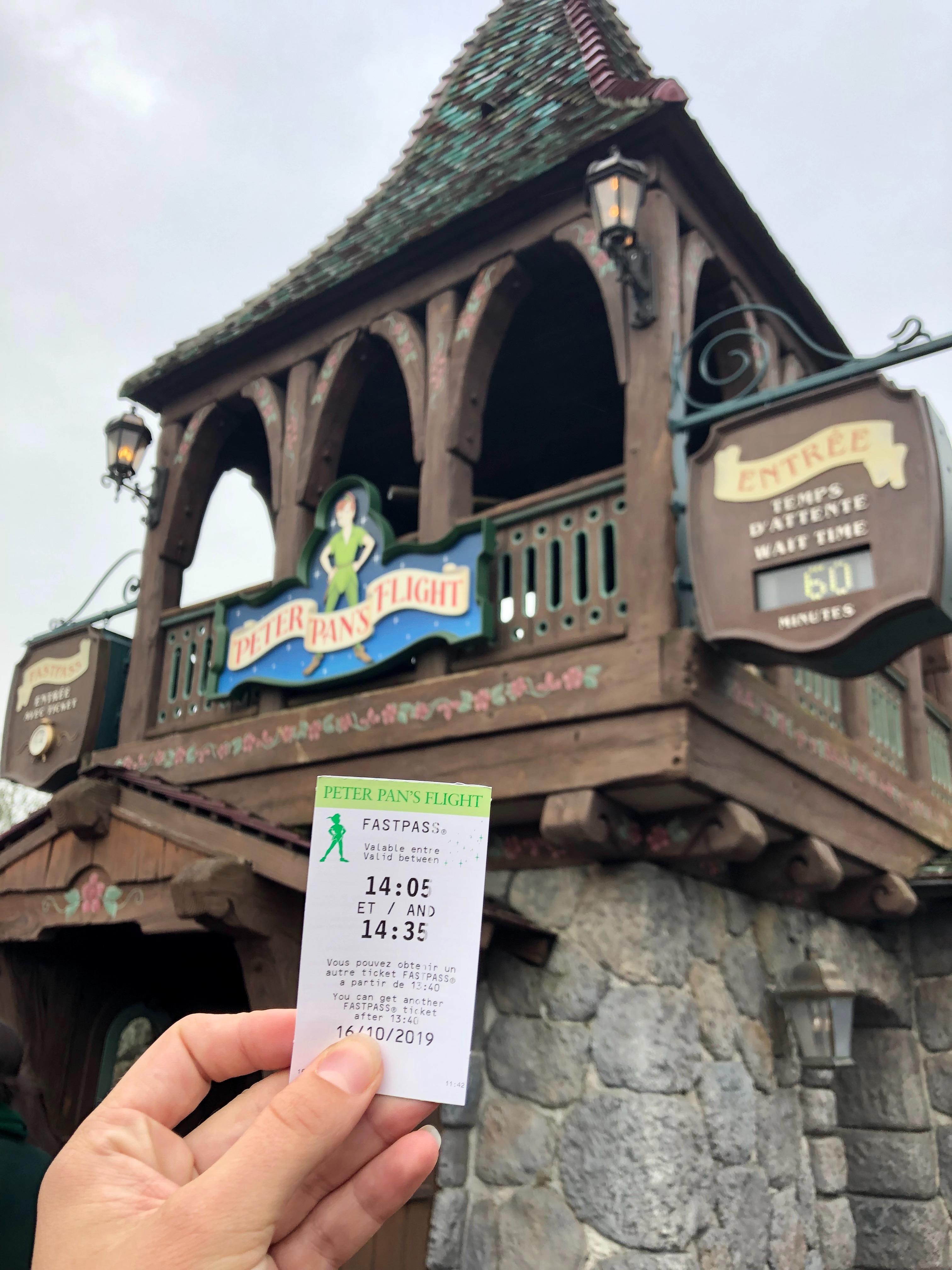 Familiarize yourself with the FastPass system because it can be a godsend. 1) Go to the ride and find the labeled machines, be sure to look at what time is being offered for the Fastpasses so you can plan accordingly. 2) Scan your park ticket to receive a FastPass ticket. 3) Be sure to come back to the ride during the time period stated on your ticket (you get 30 minutes), before or after isn't allowed.
To get another Fastpass, you either have to wait 2 hours after you get your initial Fastpass or, you can get one beginning at the start of the acceptance window for your current Fastpass. Meaning, if your Fastpass says 12 to 12:30, you can get another Fastpass at 12 or after.
In Disneyland Park there are only 6 rides covered by the system. These are Big Thunder Mountain, Indiana Jones and the Temple of Peril, Peter Pan's Flight, Buzz Lightyear Laser Blast, Star Tours, and Hyperspace Mountain.
In Walt Disney Studios, the rides are Tower of Terror, Ratatouille: The Adventure, and Flying Carpets Over Agrabah.
Other Tips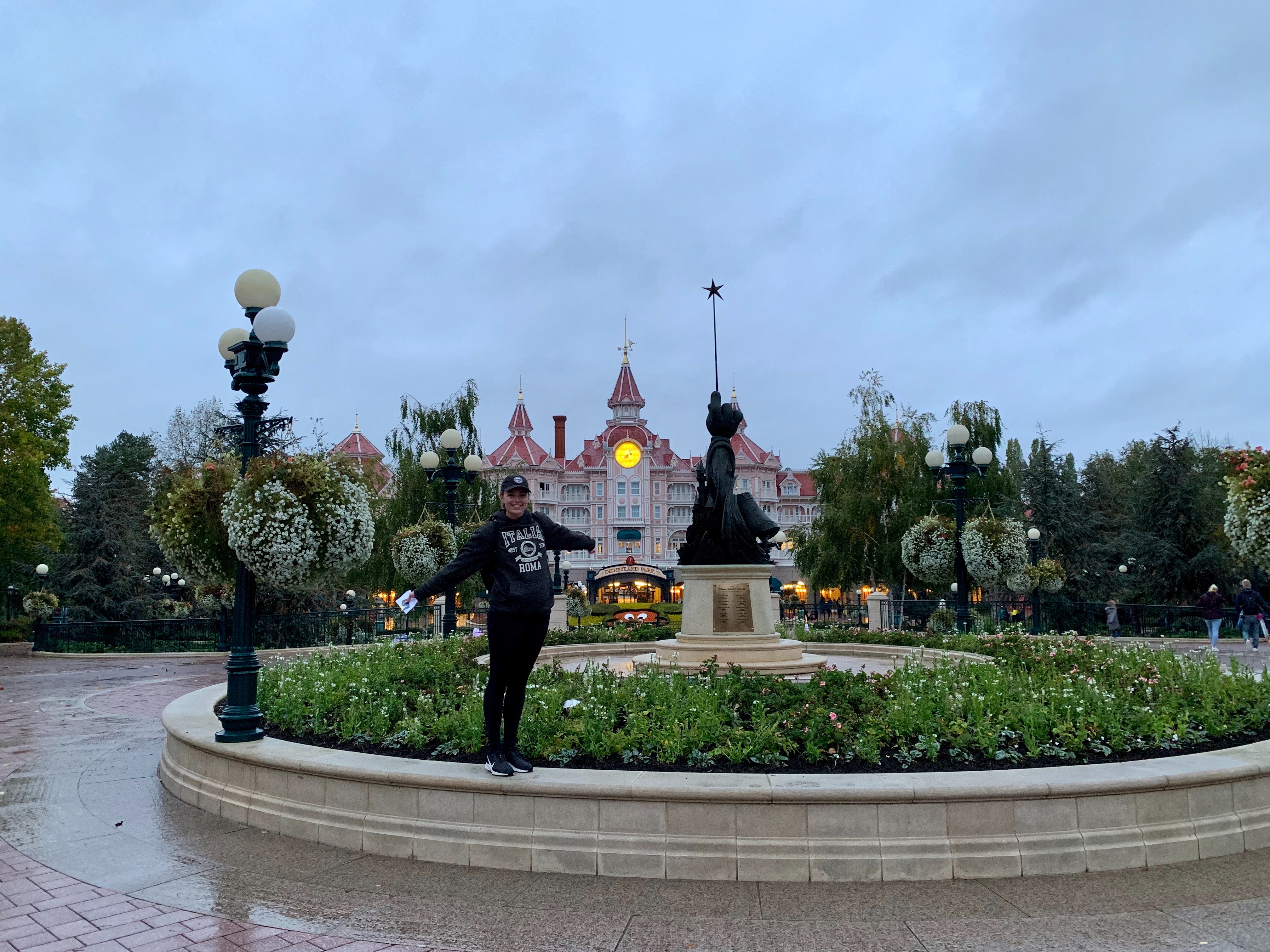 Stay in a Disney Hotel or affiliated hotel if you can because you'll get Magic Hours, which lets you into the parks 1.5 hours earlier than everyone else.
Getting to the park is actually very easy, there is a train from Paris that takes you directly to the front and there is lots of parking - plus, if you stay in a Disney Hotel, parking is free or in many cases they have a free tram!
The park is split between English and French, the signs, the menus, the rides, and the parades. The Disney employees are very friendly and speak many languages, so even if you don't speak French you'll feel comfortable.
Bring a water bottle, wear comfortable shoes, and if the forecast shows any clouds, think about bringing a rain jacket or umbrella.
Disney is pretty good with food allergies, but if you're worried, bring a few snacks with you just in case. Lots of the food places close unusually early at the park so bringing snacks is always a good idea.
Lines for food can be very slow, make sure you hold your place or people will try to step around you.
I hate saying this because it's a bit negative, but be aware that you're in France and, as the stereotype goes, some of the French visitors to the park can be VERY rude. At times it was to a point where myself or a Brit (lots of Brits) would feel the need to say something. I've been to both Disney Parks in the USA many times and have never felt the amount of shoving, being hit with strollers or umbrellas, cutting lines, cursing, or just general rude behavior before in all my visits. It was rather jarring.
Be sure to catch a show or a parade or two when you visit, especially if you go during a themed month! Going during October allowed us to see the Halloween parade and the villain show - side note, France pulls out a lot of villains you normally wouldn't see, like Frollo and Governor Ratcliffe.
Disneyland Park
This is the main park for Disneyland Paris, it looks like a smaller, quaint, "French" version of the Disney Park in California, complete with the iconic Sleeping Beauty Castle.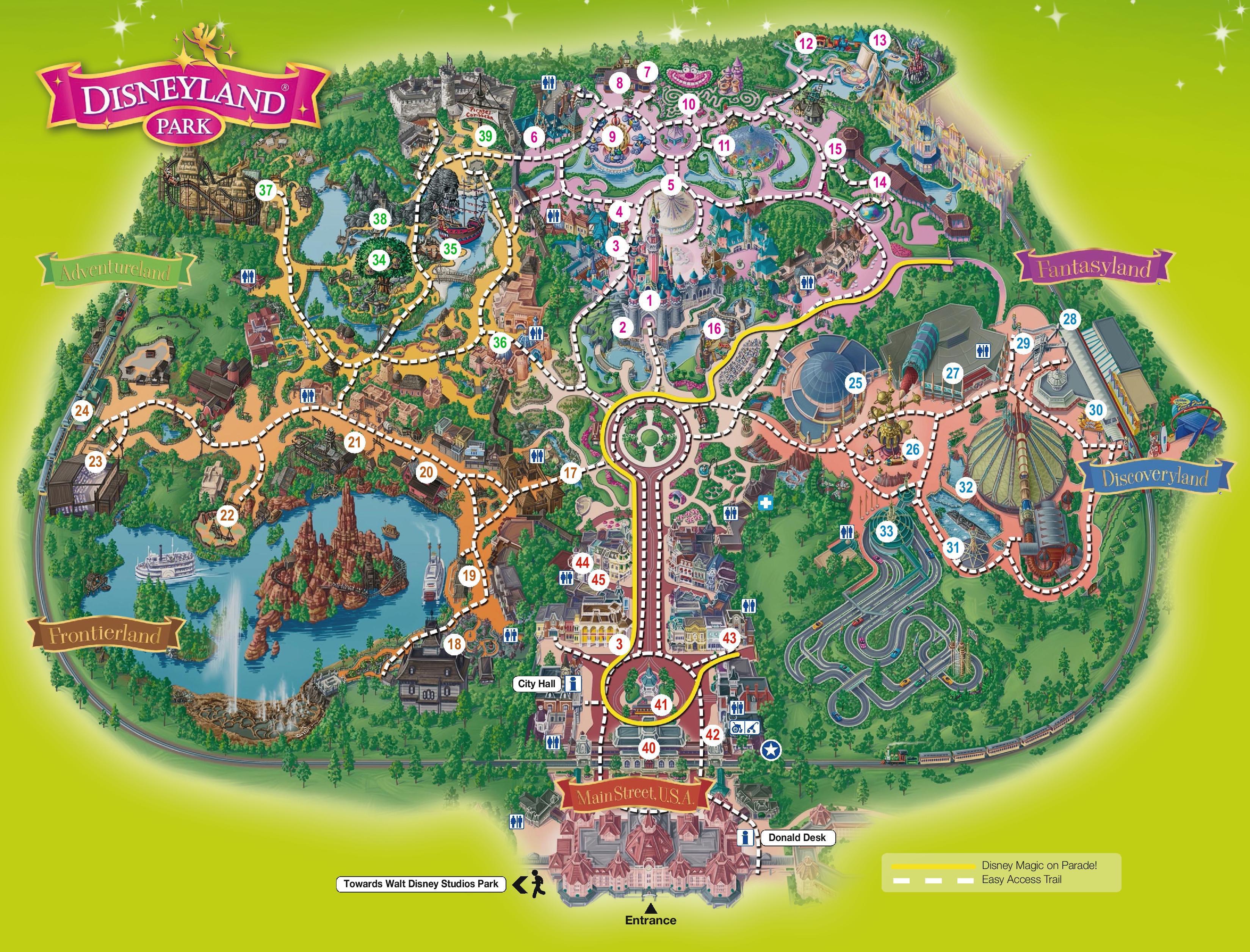 There are five main parts to the park: Frontierland, Adventureland, Fantasyland, Discoveryland, and Main Street USA.
Each section of the park is very similar to its US counterpoints, but effort was made to make them just a bit different. These little details are what makes Disneyland Paris such a unique visit.
I will break down the sections of the parks first, and then give my recommendation for the order you should go in to best make use of your one day. 
Main Street USA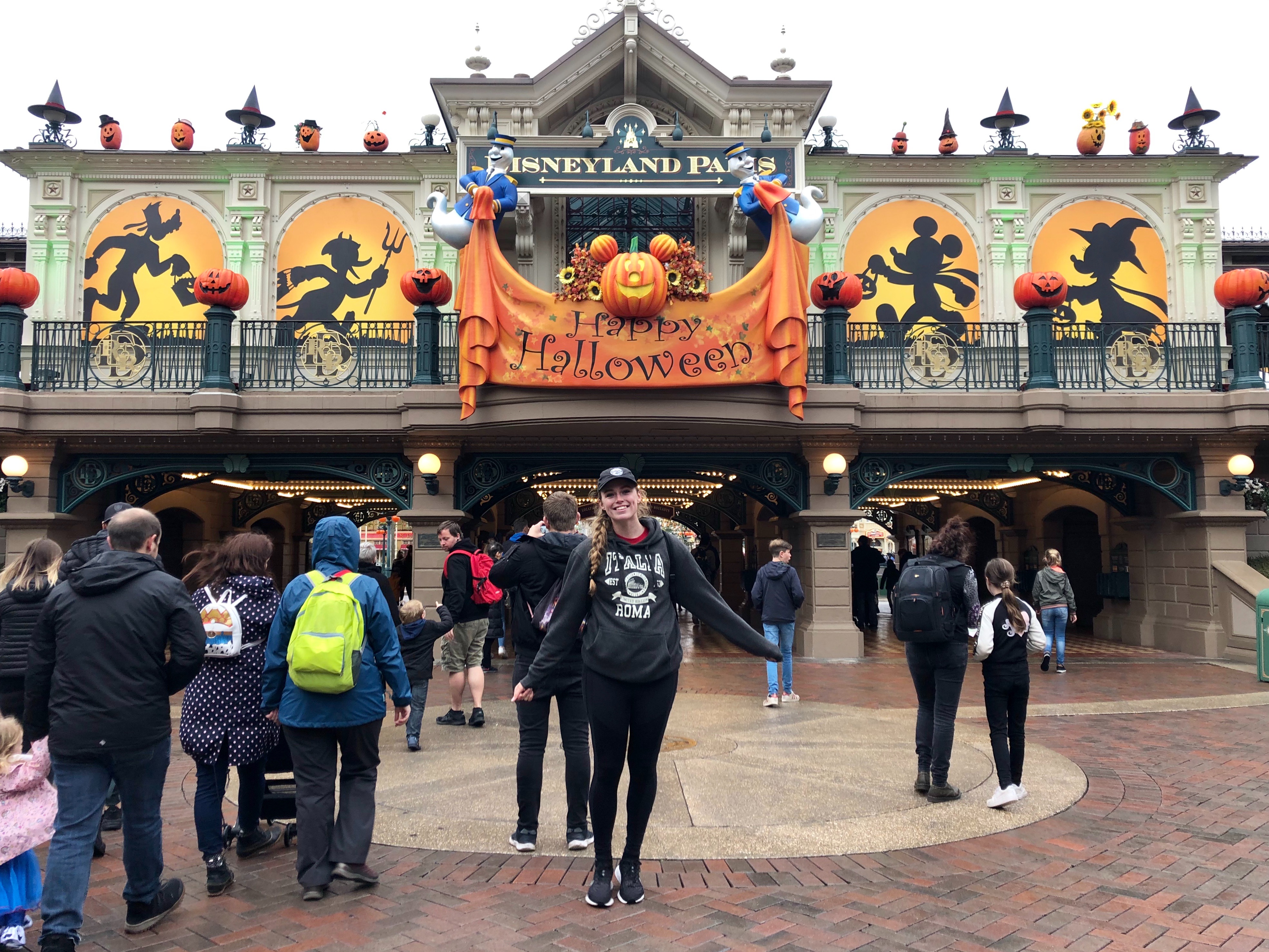 A familiar sight for many, and a welcome sight at that. The entrance to Disney feels like home no matter what country you're in.
For those who don't know, Main Street USA is designed to replicate a street from a small town in America during the 20th century. Walking in, you'll pass the train station and find City Hall and a gazebo. Past that, shops and food stands.
This was my main spot to get souvenirs because the variety of options is greater here than anywhere else in the park. My favorite were the ornaments and seeing which characters are more popular in France than in the USA. To that end - Marie from The Aristocats, Remy from Ratatouille, and the three fairies from Sleeping Beauty seemed to be some of the more popular characters (besides the princesses of course). Maleficent was also very popular but it was October and she's popular everywhere anyways.
Main Street is also a popular place to go for sweet treats. I myself did not indulge, but I heard that the Mickey waffles and Mickey cookies are among the most popular items.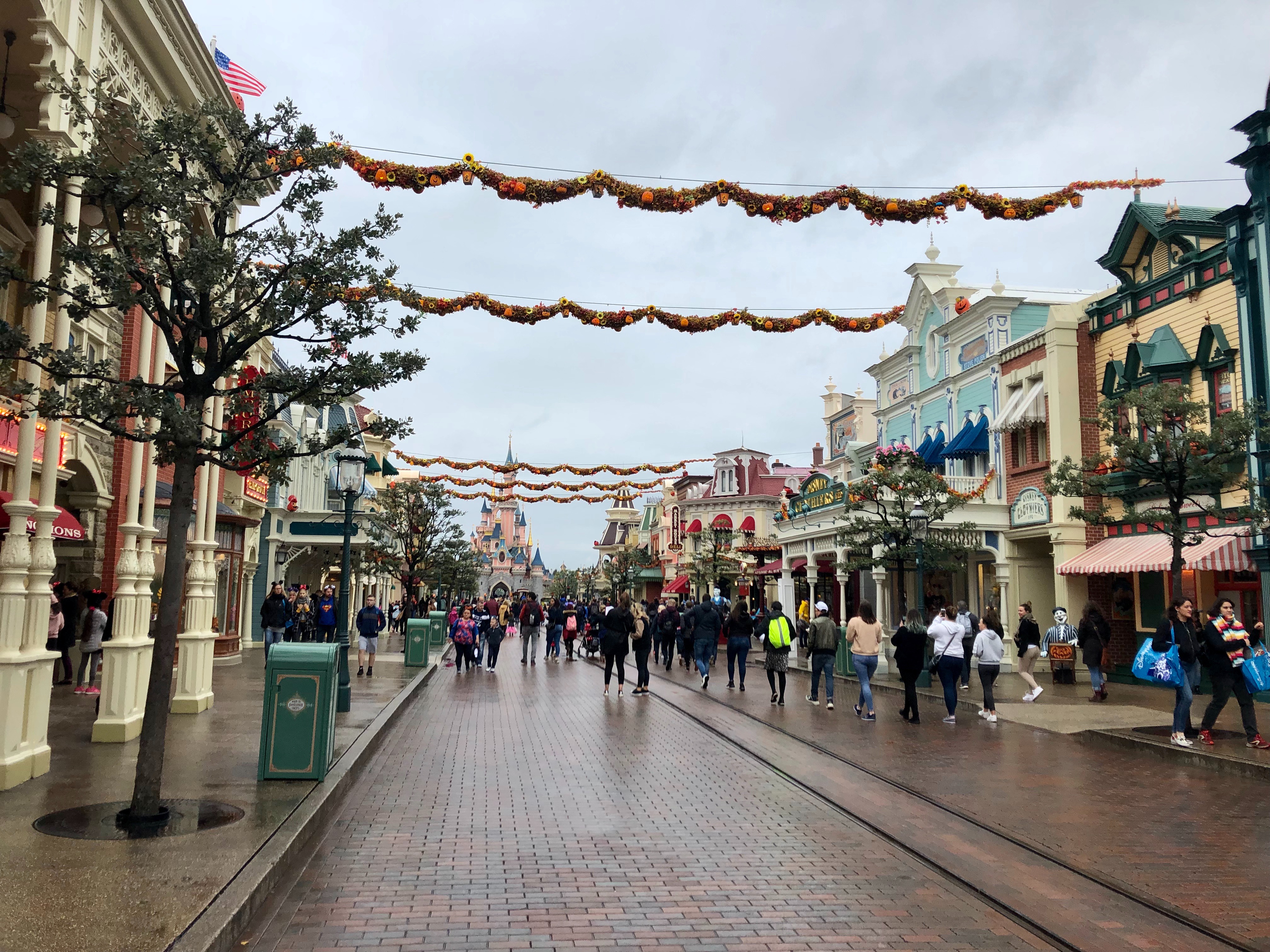 If you're looking for a photo app with one of the classic characters, Main Street is the place to find them. In October you'll see them in their autumnal best, but the lines can last forever.
Tip! - The Main Street USA in Disneyland Paris has an inside hall in the back (called an arcade) where you can gain access to the shops with less of a crowd. There's also clean bathrooms with no lines in this area and it's a great place to warm up for a bit in colder weather.
Frontierland
The land is themed after the American Old West, built as if it was a mining town called Thunder Mesa. There are three rides and many shops and restaurants to visit, along with an Indian Village (which I was conflicted about but didn't end up visiting so I can't really speak on it much).
Frontierland is by far the most interesting section of the park. It has a detailed backstory that ties in with the Phantom Manor (our Haunted Mansion) and was definitely the most decorated for Halloween. That's probably because Halloween works better with the theme of Frontierland and can be tied in with the rides and restaurants. For example, the Phantom Manor's gazebo holds host to Jack Skellington where he meets people (only with a special ticket I think...?) and the Tex-Mex restaurants have decorations from the movie Coco, which was absolutely gorgeous and colorful.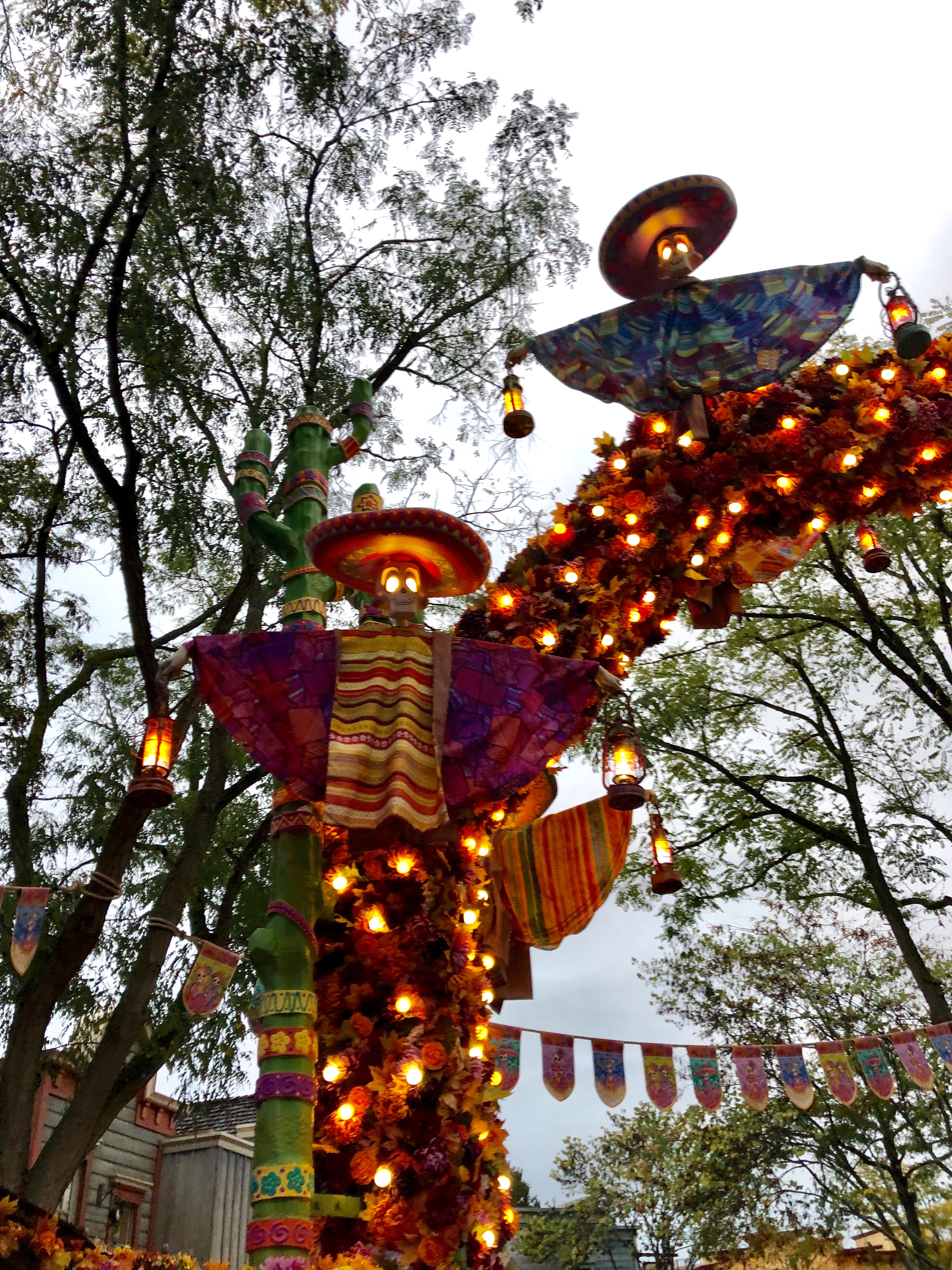 The most popular ride is by far Big Thunder Mountain. In all parks around the world it has a similar backstory, gold was discovered there in the American Southwest sometime in the 1800s. It became a large mining town (Thunder Mesa in this case) and the railroad was built to transport the metal out. However, by building the rails and mining in the mountain, the settlers had disrupted a sacred Native American site. Because of this, an earthquake hit the town and it was deserted. Before long, those few people left wandering around heard the trains running through the mountain on their own without any help.
At all times it will have a long line, longer than any other ride in the park. Because of this, it needs to be your first Fastpass destination. The ride is fast-paced and thrilling, much of it taking place in the dark to heighten the sensation.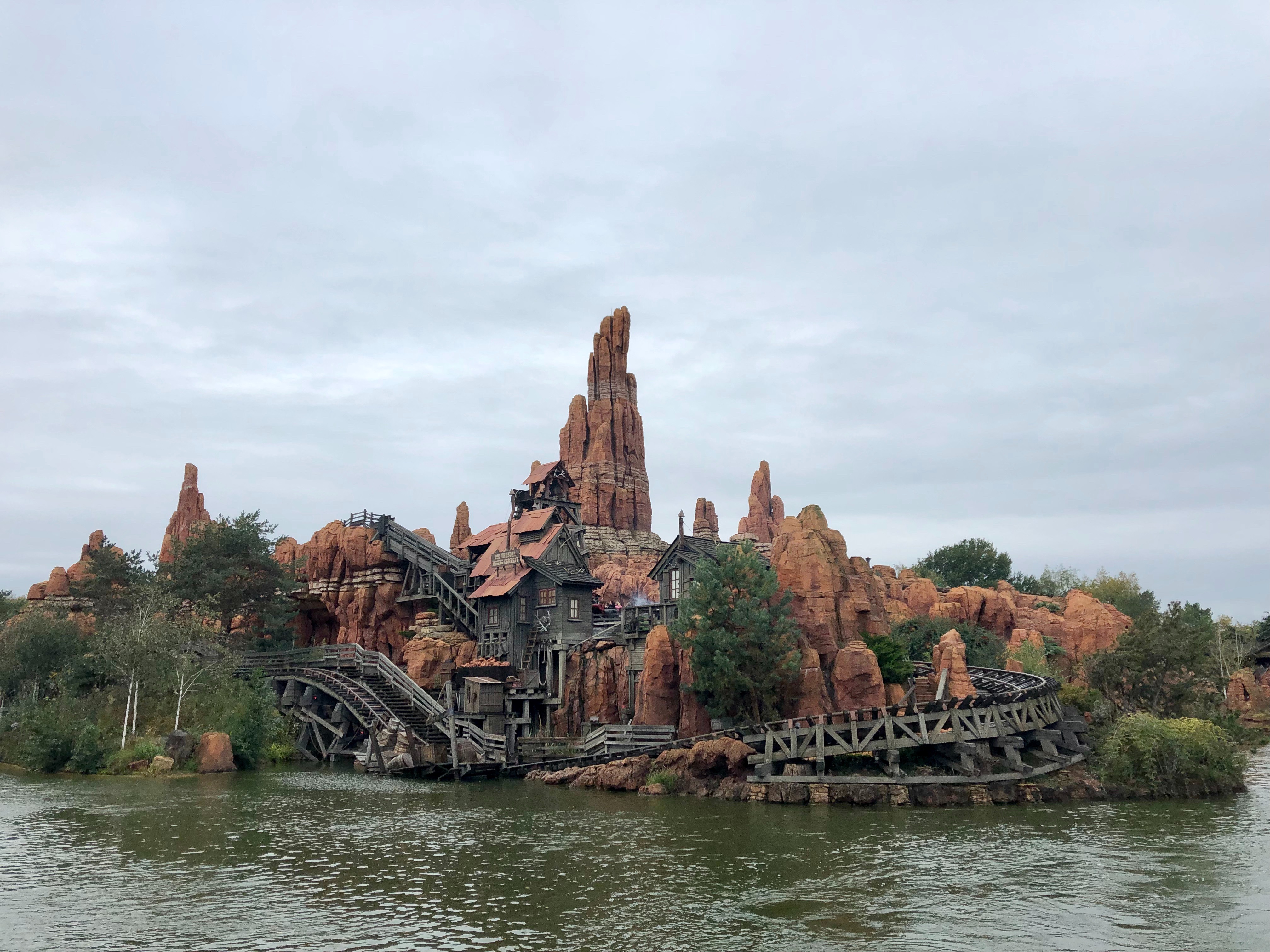 The story continues in the Phantom Manor. When I visited, the whole ride had been redone and was similar to the US ones I was familiar with, but had more of a storyline. Basically, the house was built by a miner named Henry Ravenswood who created the town of Thunder Mesa. He lived there with his wife and daughter Melanie, and hated the idea of his daughter being married off, thus, each suitor met a gruesome end. He and his wife ended up dying in the earthquake and afterwards when his daughter was to marry, a Phantom showed up a killed her fiancé. Not knowing that her fiancé had been killed, Melanie continued to wait for him in her wedding dress. Years passed and she stayed in the Manor, singing songs and waiting for her lost love. The Phantom laughed at her fate and invited his demonic friends into the house. The house and the town became part of Phantom Canyon, a place where the dead thrived, and Melanie never left.
The ride wasn't very popular and was easy to get into, even though it had just been newly renovated. With a short line it was definitely worth the visit as the darker storyline made for an intriguing visit.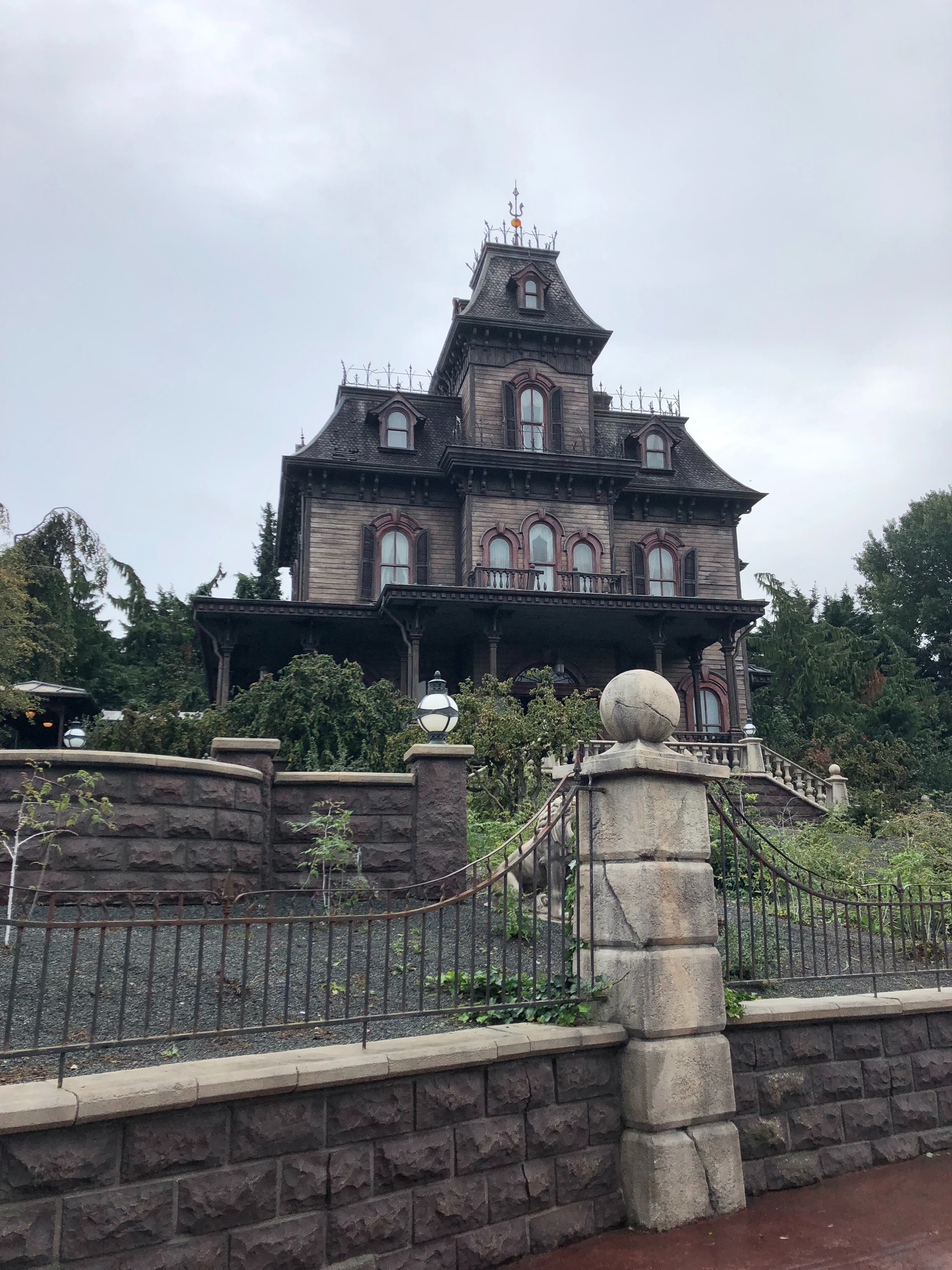 The dark story was left there, as Disney can never be too dark even during Halloween. Instead it was replaced with bright lights and grinning pumpkins. They lined salons and restaurants and led up to the third ride, the Thunder Mesa Riverboat Landing, which is basically the Mark Twain Riverboat found in California, where they take you on a ride around the man-made lake to see various sites around Frontierland.
It differs from the other parks in that there are two boats, Mark Twain and Molly Brown. Only Molly Brown still gives rides while Mark Twain sits docked.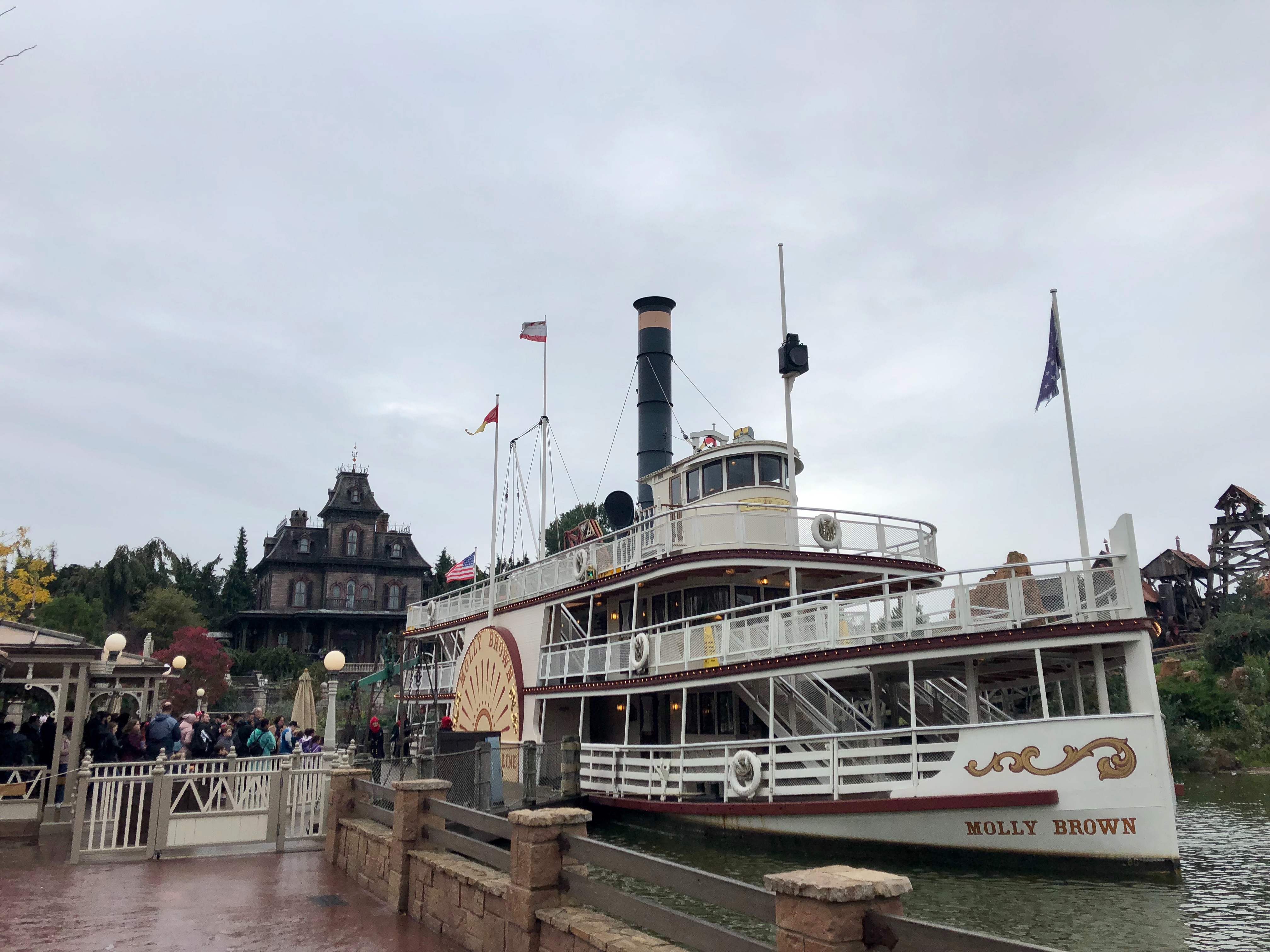 Restaurants I recommend:
Fuente del Oro Restaurante (we went for dinner here, they were cheap, tasty, and were able to help me with my food intolerance)
Cowboy Cookout BBQ
The Lucky Nugget Saloon
Adventureland
You can access Adventureland to the right of the Fastpass entrance for Big Thunder Mountain.
Adventureland has two rides and multiple fun experiences to enjoy. It also has some of the most popular restaurants in the park, one being Captain Jack's (the Paris version of Blue Bayou), where you get to be apart of the Pirates of the Caribbean ride. There are also some cheap restaurants to grab a quick bite at that are worth checking out.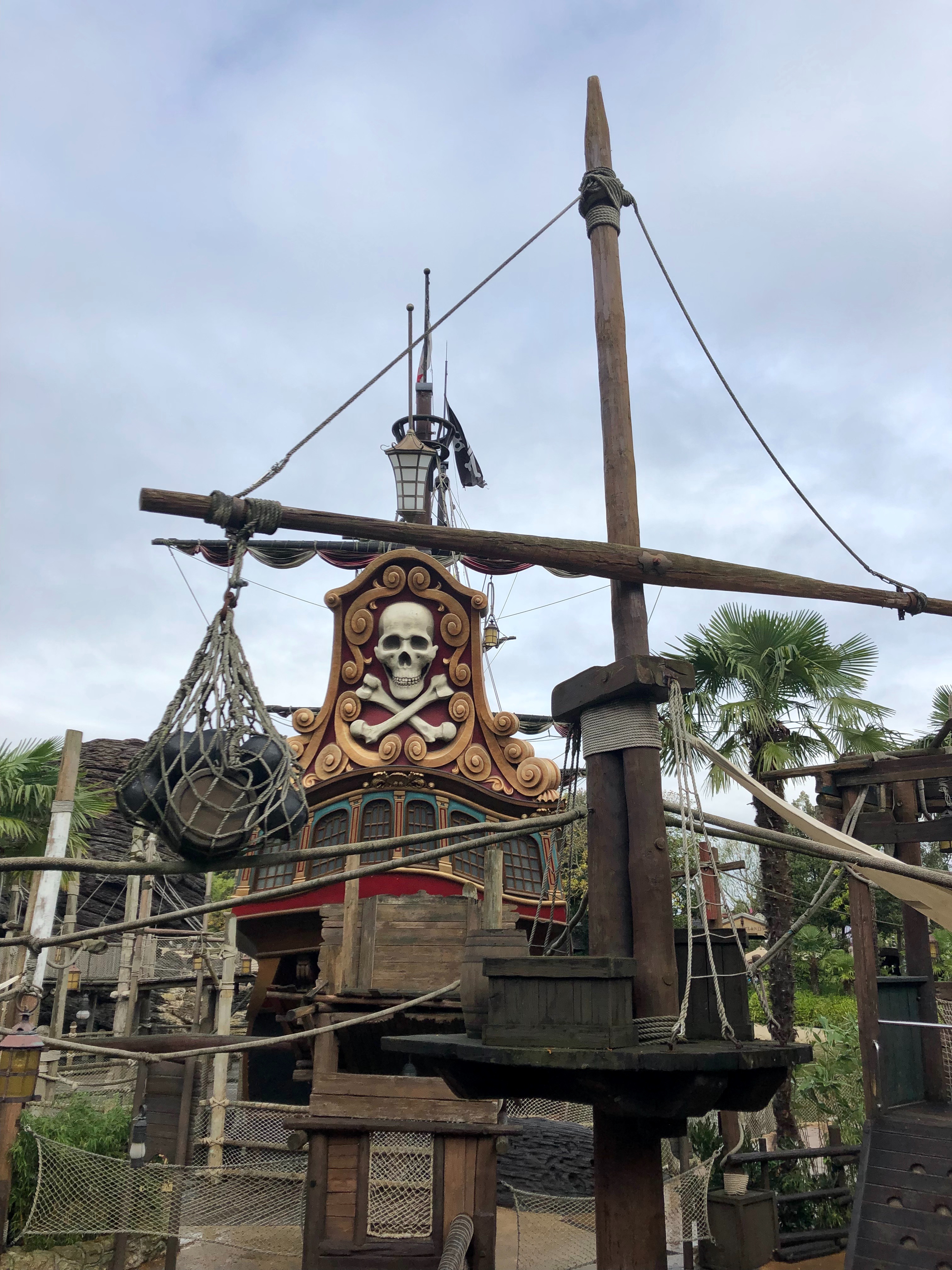 Pirates of the Caribbean is always one of my favorite rides in all the parks. It's detailed, exciting, and the lines go quick. The one in Disneyland Paris was no exception. The rides in each park are near copies of each other, with the main difference being that the Parisian one has a better experience while waiting in line. It's covered and you get to walk past themed look-ins and such. Also, the cast members really get into their roles, especially the man who separates you into two different lines. He goes off into pirate tangents in both English and French, keeping you laughing the whole time.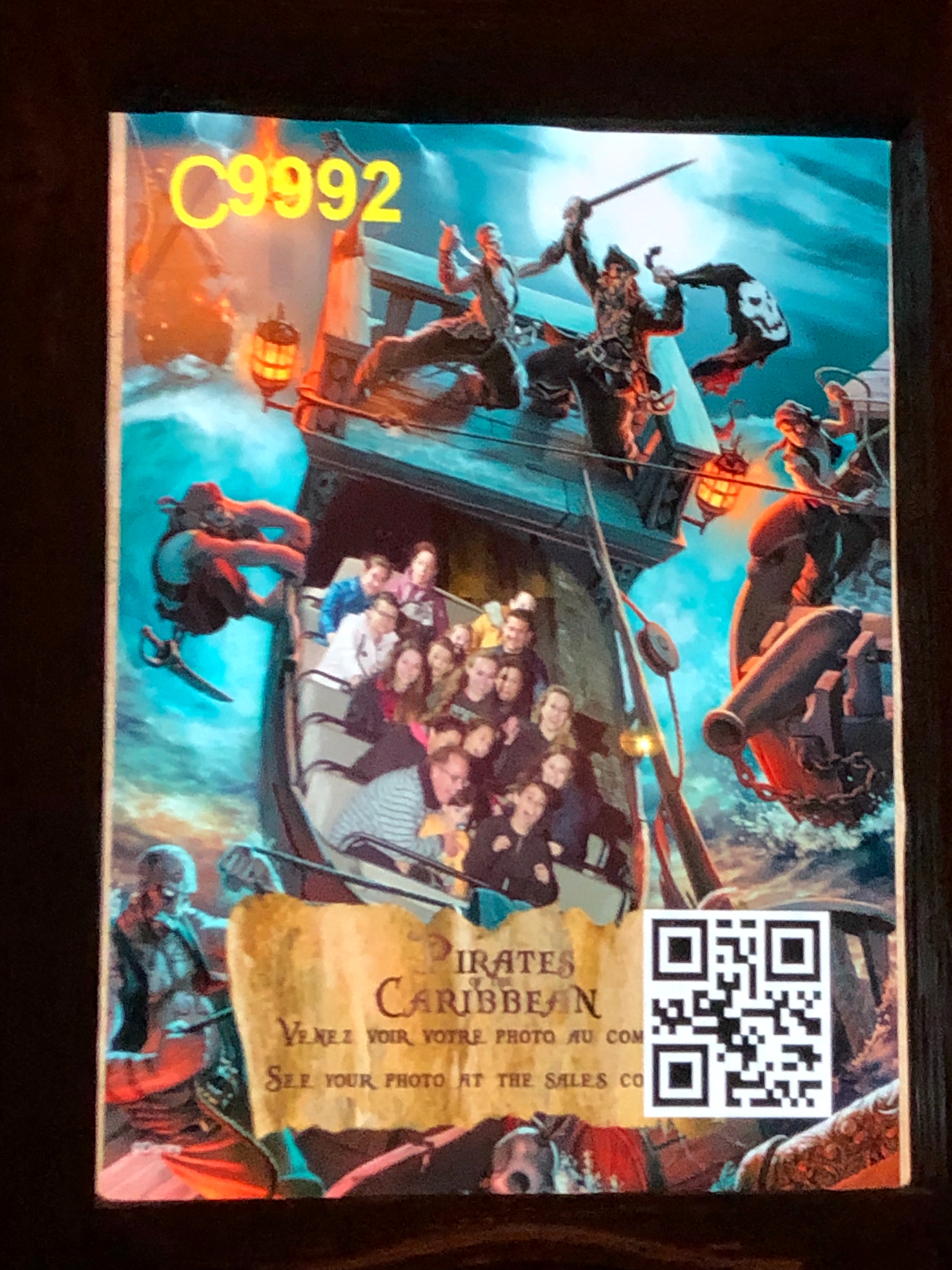 Pirates was the only ride we went on in Adventureland, seeing that Indiana Jones was closed, and although we couldn't control that, I felt as if I didn't see enough of Adventureland. It felt as if there were many hidden treasures and secrets to find in the caves and in the treehouse. But, we were pressed for time so we went to Aladdin's Bazaar, walked through Aladdin's Enchanted Passageway, and left the land.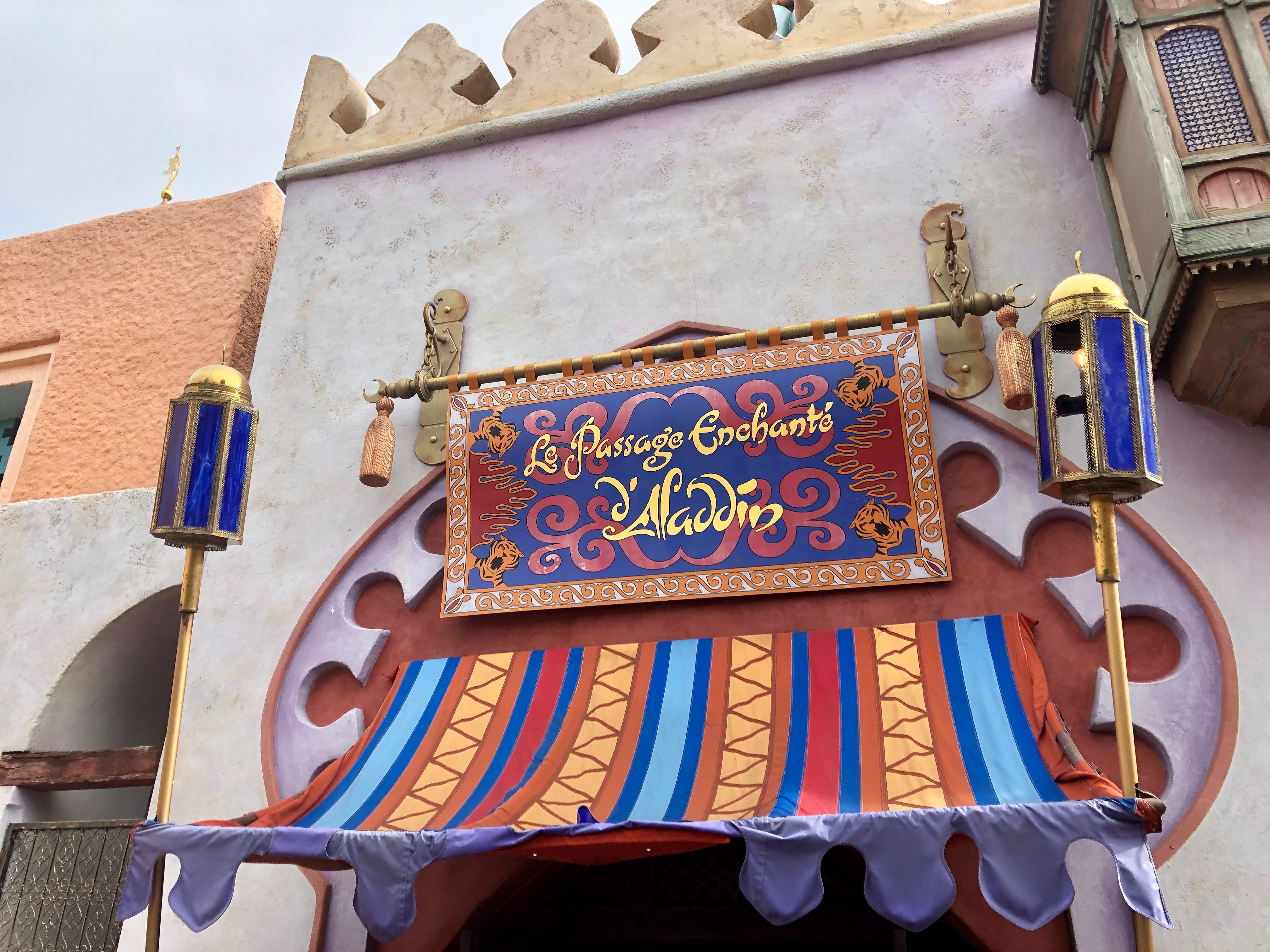 Restaurants I recommend:
Hakuna Matata (we came here for lunch, it was cheap and fast and the ambiance was really nice)
Captain Jack's - Restaurant des Pirates
Agrabah Café
Fantasyland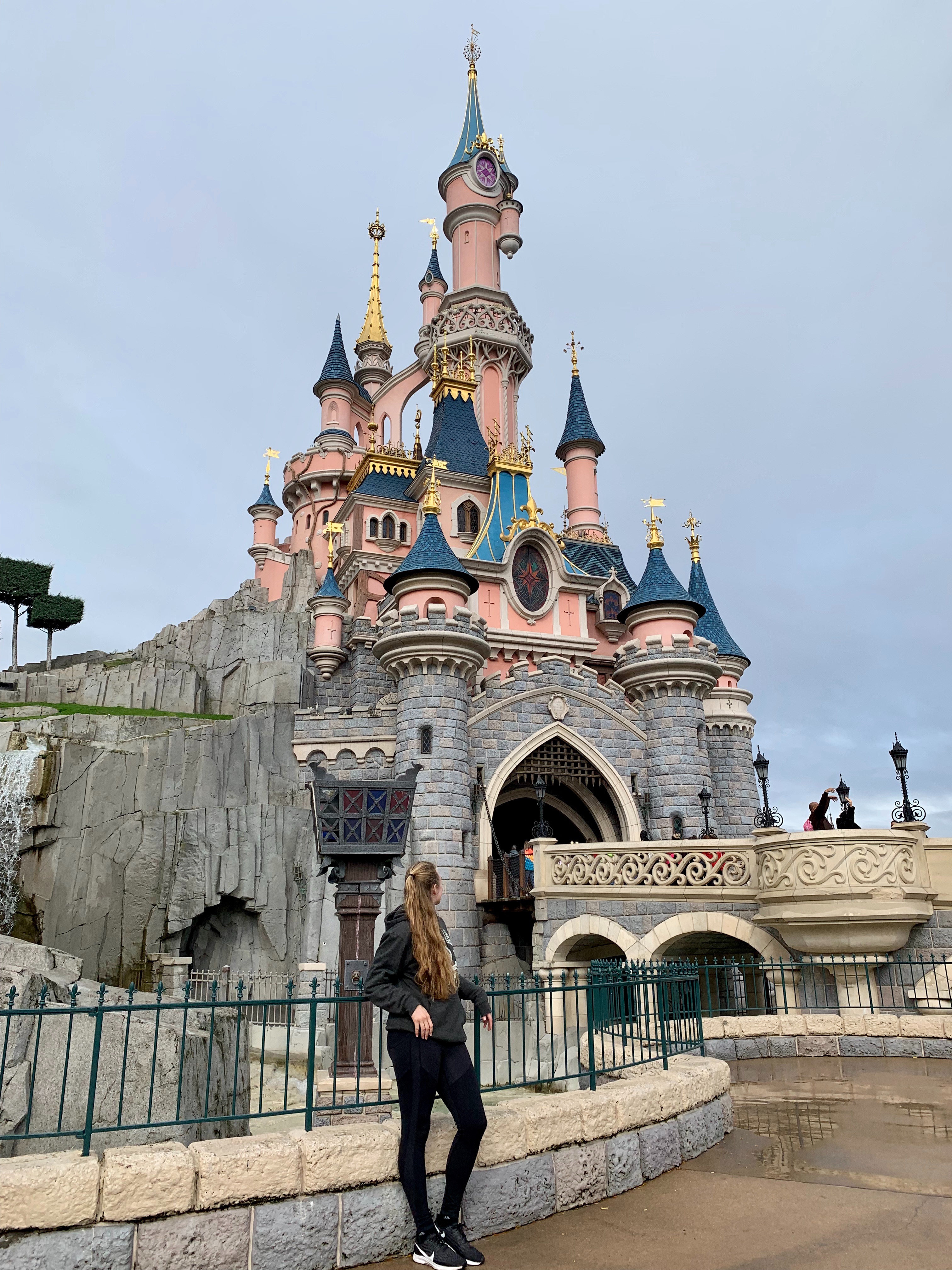 The Sleeping Beauty Castle serves as the regal gate to Fantasyland. However, this castle has a secret. Deep beneath the stone is the lair of a slumbering dragon, one that can be visited. A word of caution - too many people and the dragon wakes!
The lair is called La Taniere du Dragon and can be accessed on the left side of the castle, just beneath the coiffed trees and next to the waterfall. It's a very impressive piece of animatronics, so I highly recommend a visit!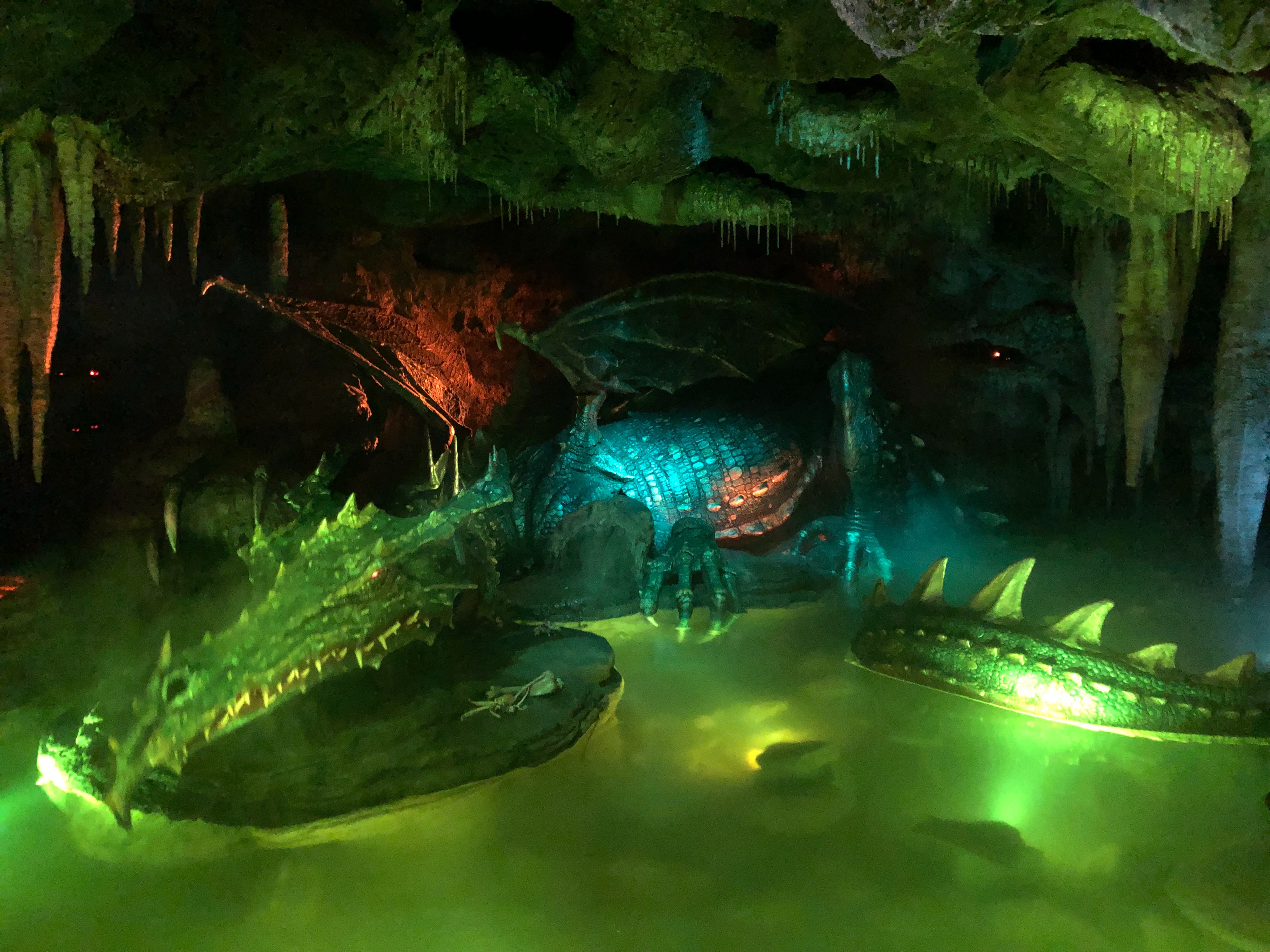 Fantasyland at once seems too crowded and yet too vast. In my opinion, it's because the land isn't surrounded by anything tall, giving the impression it goes on and on. The crowds come from the fact that it has by far the most rides out of any land in the park, a whopping 9 rides, 10 if you count the labyrinth.
Only Peter Pan's Flights has a Fastpass and you'll need one if you want to ride. The ride, like in every other Disney park, is one of the most popular. I suppose it's because for children and adults, there is a sense of childlike wonder when you feel as if you're flying through a story. In actuality, the ride is not much different than the other "ride-through-the-story" attractions in Fantasyland, such as the Snow White ride or Pinocchio's Fantastic Journey.
All of the rides in this area are meant for small children, but that doesn't stop adults from enjoying them as well. For instance, spinning a teacup on the Mad Hatter's ride is damn difficult, and I'd like to see a child strong enough to do it by themselves.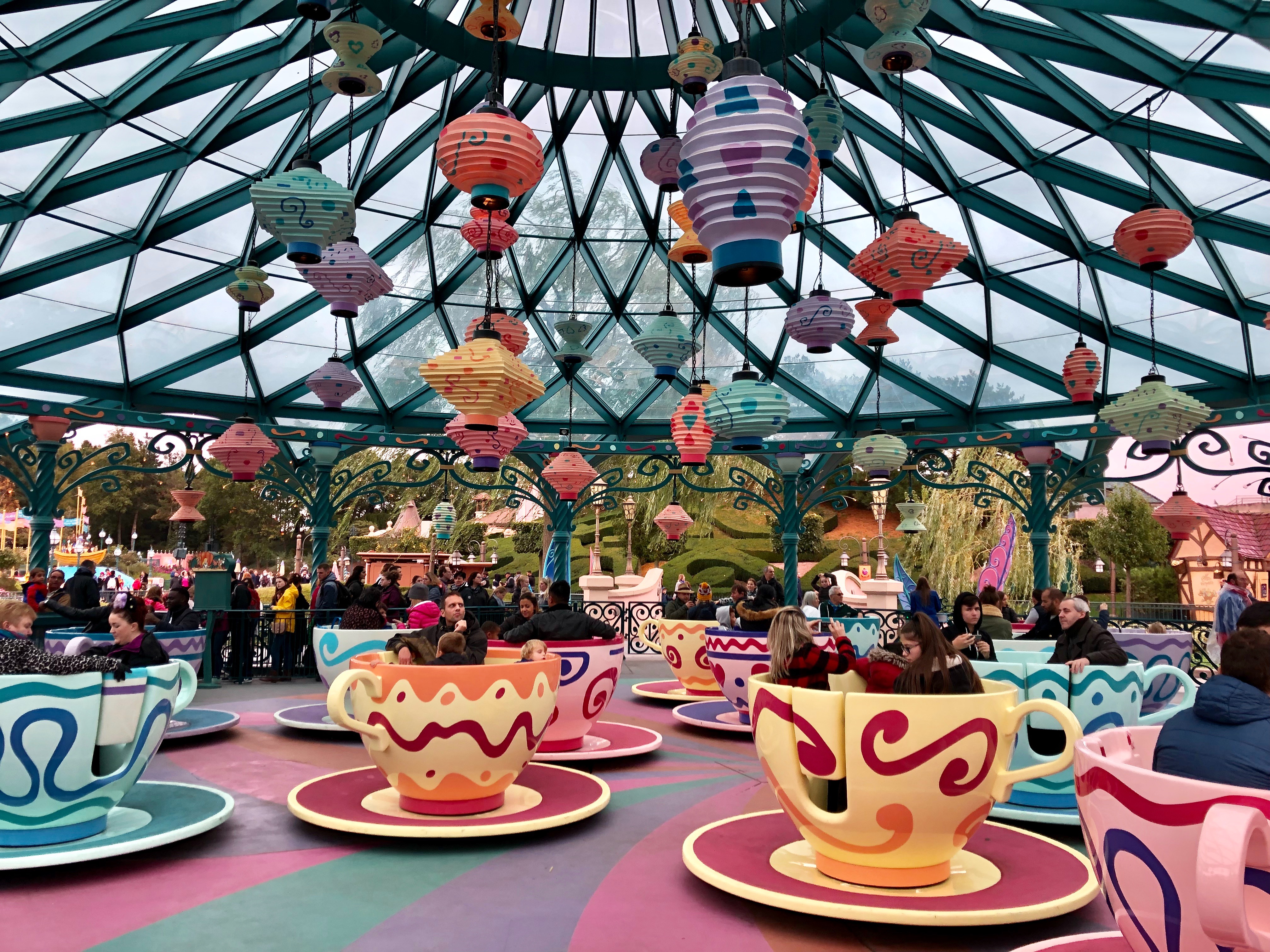 One disappointment for me is that I hoped to visit Alice's Curious Labyrinth, it being an experience unique to Disneyland Paris (with a similar adaptation in the new park, Shanghai Disney). Unfortunately it was closed for renovations so I could only stare from afar.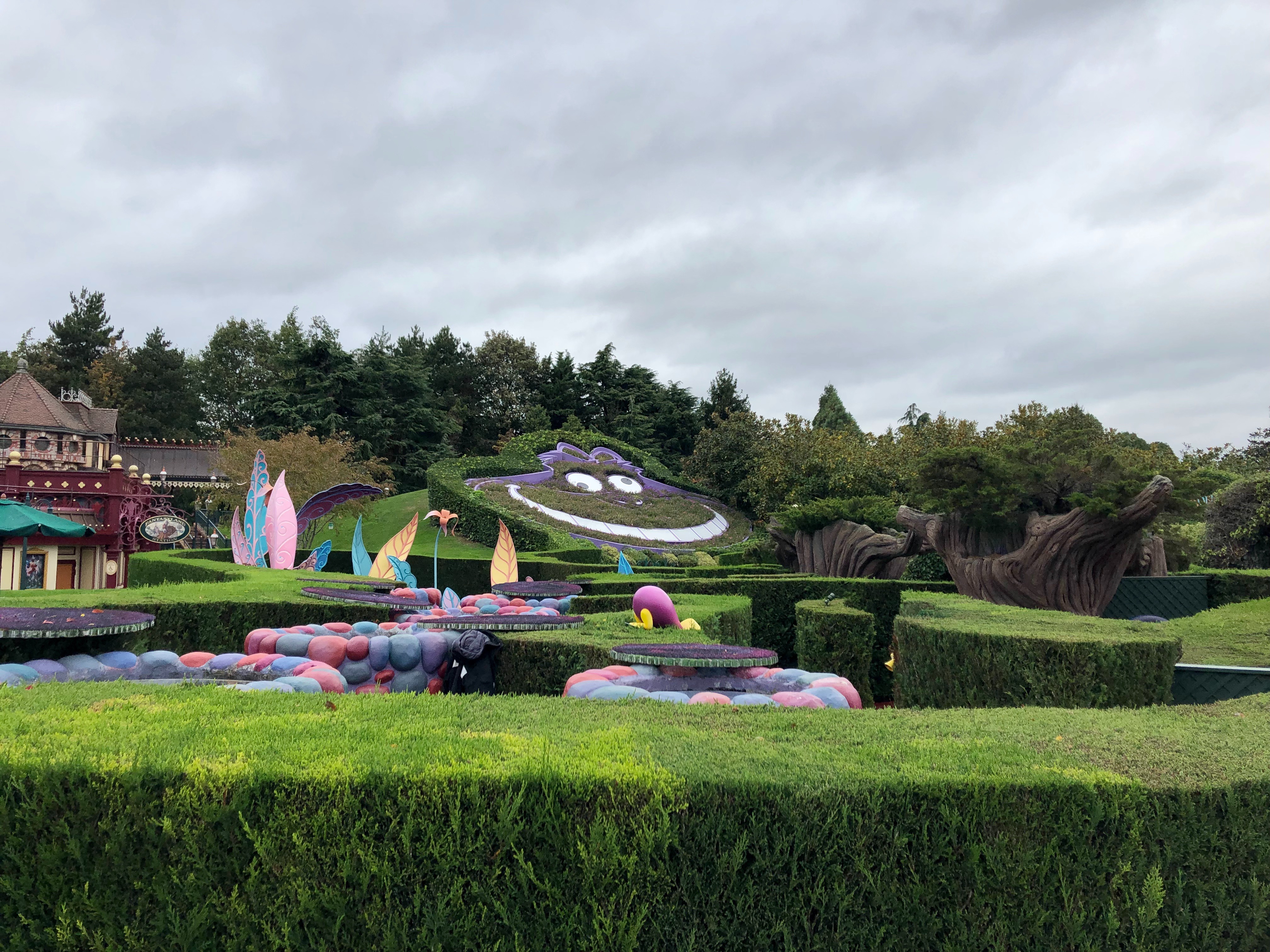 Two other rides were closed as well, the Casey Jr. Circus Train and the Storybook Land Canal Boats. I was disappointed that the boats were unavailable as well, because I find them to be a secret treasure of Disney.
However, It's A Small World was open. Yes, I know that the ride can be repetitive and the song will be on constant repeat echoing through your skull, but Disneyland Paris is perhaps my favorite version of the ride and is worth a run through. The worlds include a North American one and other small lands I don't recall seeing in the others. It felt more grand, and more inclusive to the different cultures throughout the world.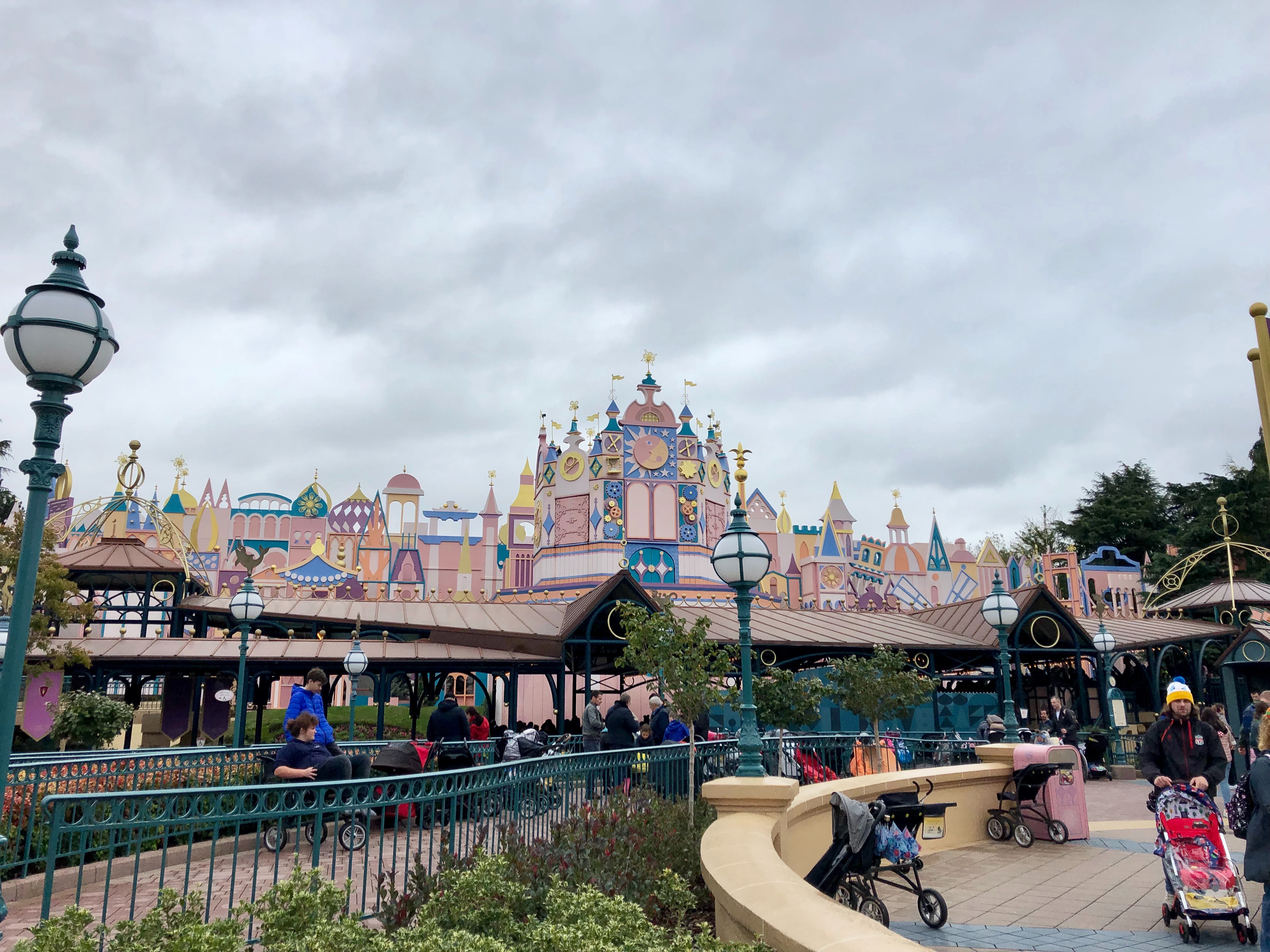 The area also has the Princess Pavilion, where you can meet all the princesses (it's right next to It's A Small World), as well as other cute little European-inspired buildings filled with snacks and souvenirs.
Tip! - There is a little secret treasure hiding on the second floor of the castle. It is a walkthrough of Sleeping Beauty's story, complete with a balcony that overlooks all of Fantasyland and little stairs that lead down to a part of the castle where it's easy to watch the parades!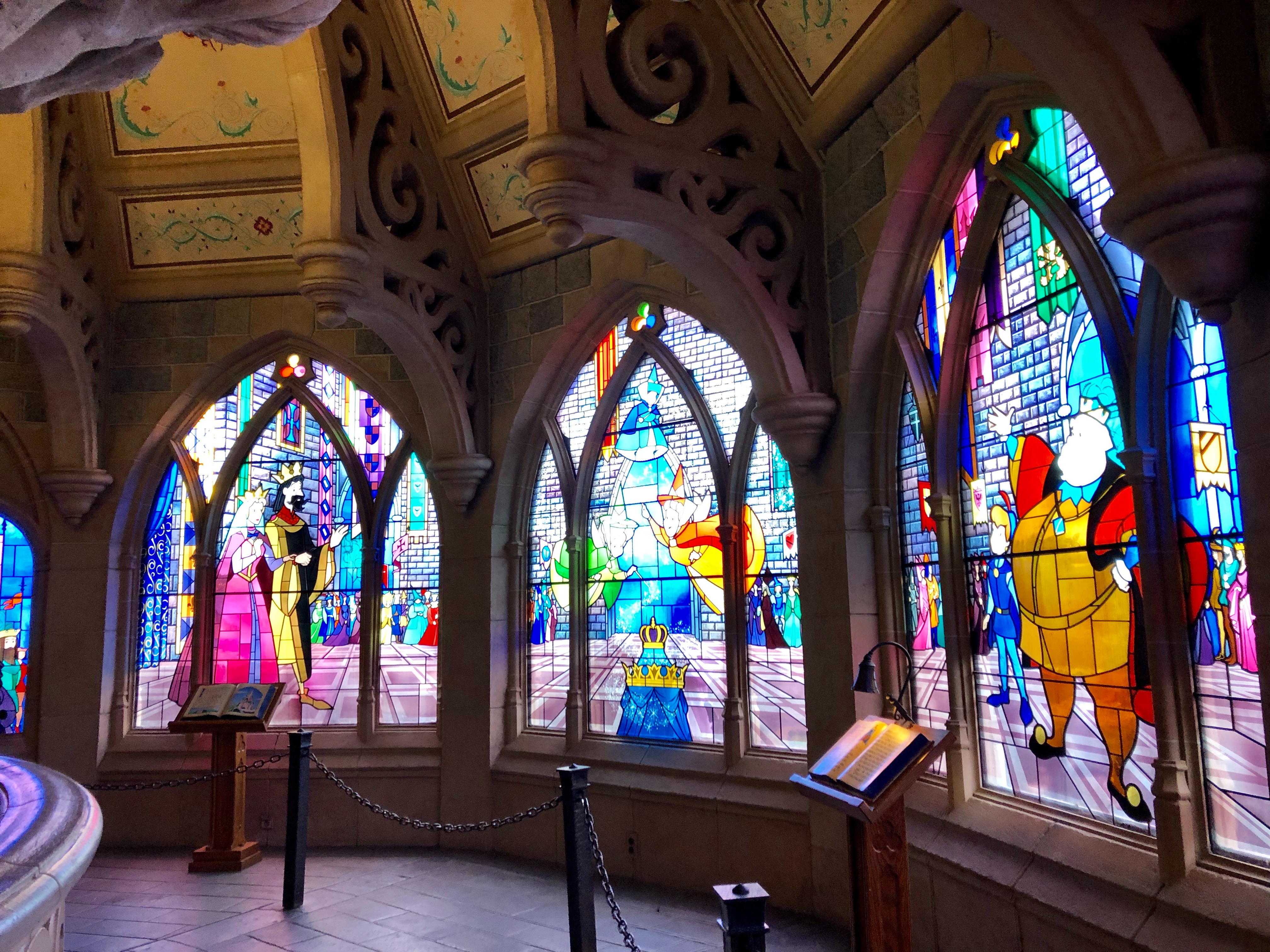 Restaurants I recommend:
Toad Hall (I didn't go to any of the restaurants in Fantasyland, but I hear Toad Hall is a great cheap stop by for anyone desiring British cuisine).
Discoveryland
Disneyland Paris's version of Tomorrowland is Discoveryland, and it feels like the smallest land in the park, despite having some great attractions.
We spent the least amount of time here although we rode Hyperspace Mountain twice and Star Tours once. Both of which, with the addition of Buzz Lightyear Astroblasters, have Fastpasses.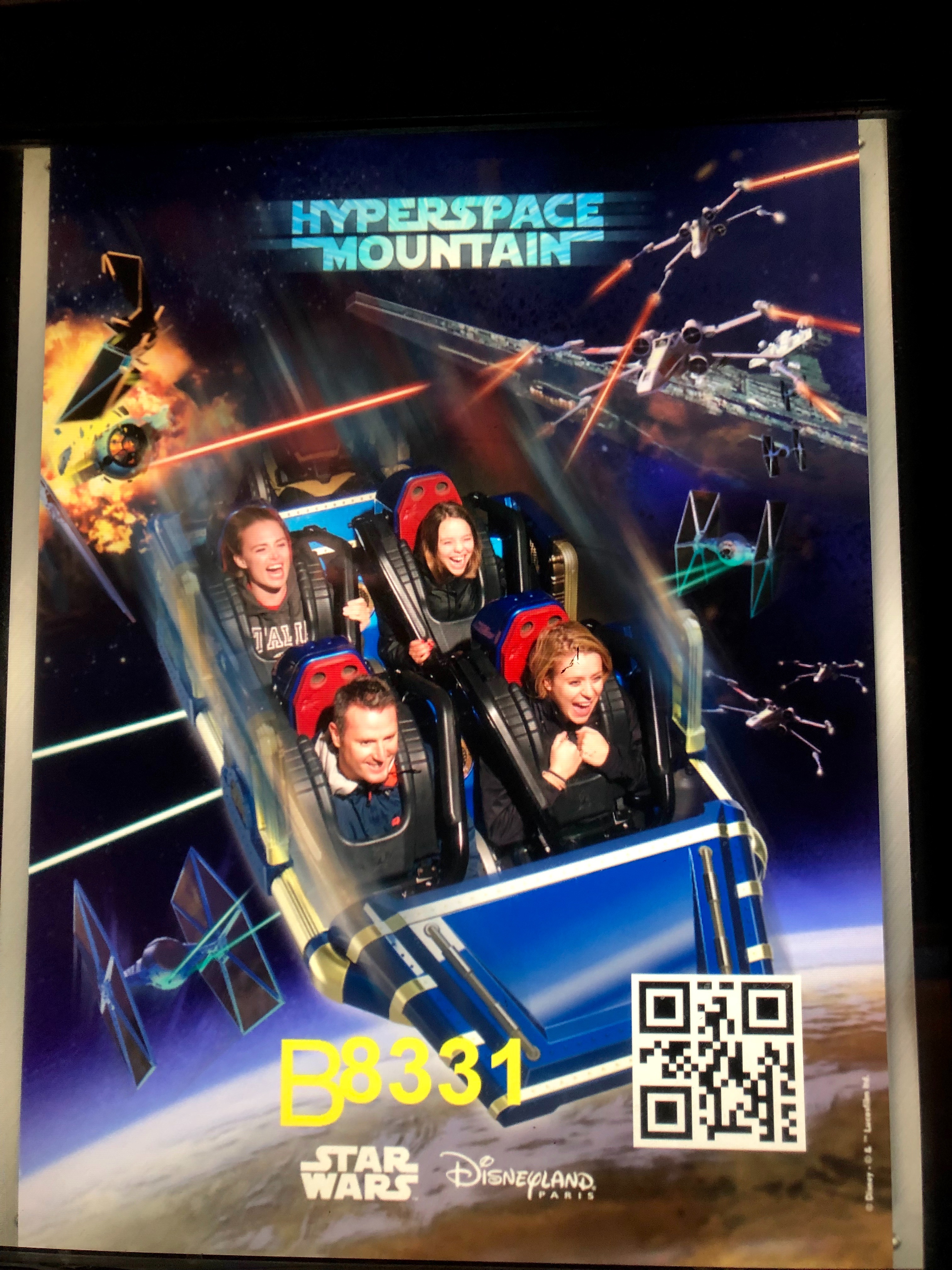 I suppose it's because I feel that Discoveryland doesn't hold things together with a cohesive theme. The theme is supposed to be Discovery, and have famous European thinkers and philosophers at the forefront. However, I see little of this. It seems to me that they made the land and changed it from Tomorrowland because they wanted to "Europeanize" it, but all they did was change a couple design elements, throw in an attraction called Les Mystères du Nautilus that nobody really visits, and put in Tomorrowland rides relating to space. As such, it feels more like a space theme with Star Wars and Buzz Lightyear dominating the park.
I'm not saying you should skip this area of the park. Definitely ride Hyperspace Mountain as many times as you can (be aware that the seats are VERY tight), and go on Star Tours. By all means, try Buzz Lightyear as well if the line is agreeable. But don't think this is where you'll soak in your Disney magic, because the other lands are much better suited to that.
Restaurants I recommend:
There are none. There is one one small cafe in all of Discoveryland and it serves basic fare.
Walt Disney Studios
Prepare yourself, this will be short.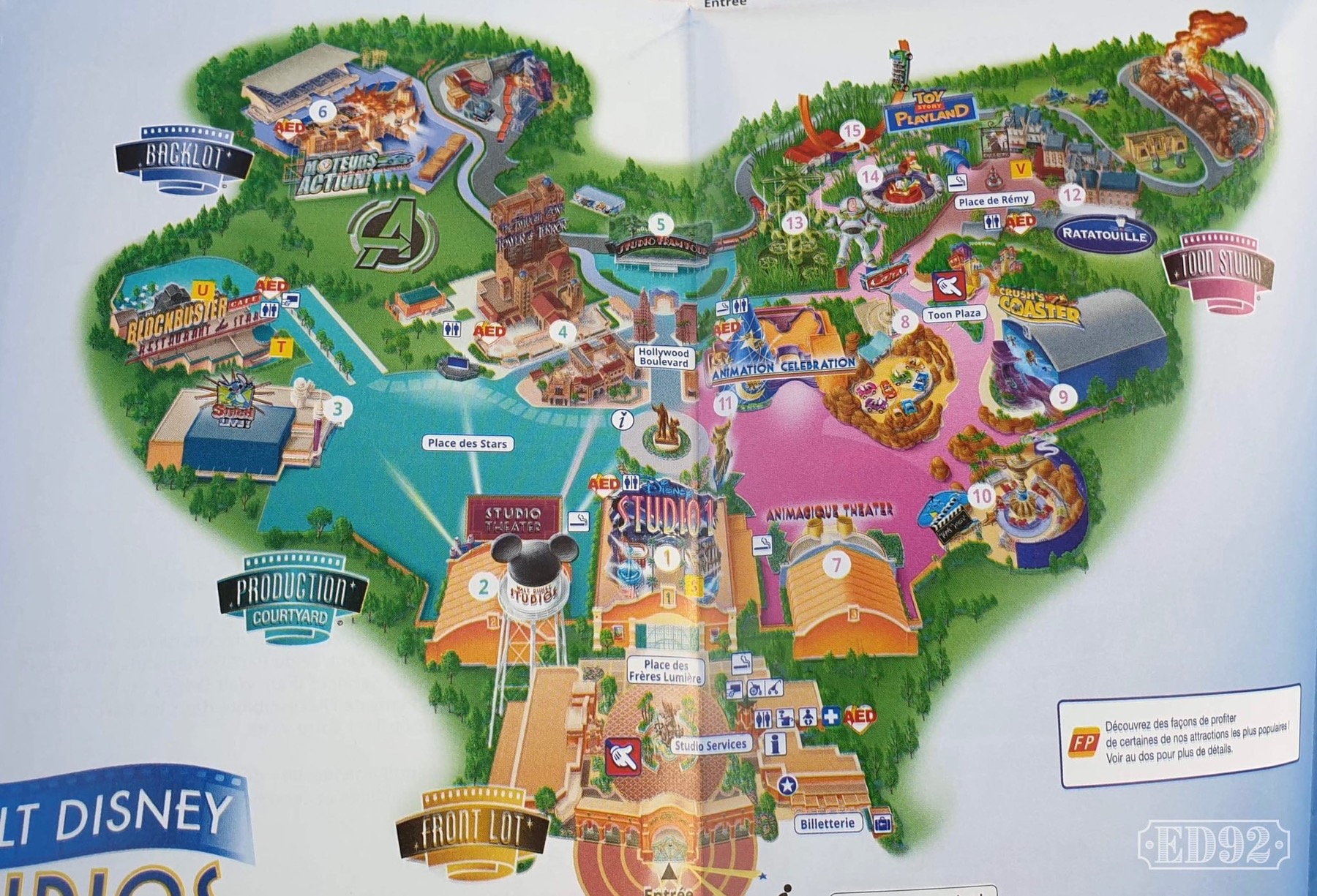 The park is TINY, and getting smaller by the minute with the Aerosmith roller coaster torn down. However, there is hope.
As some of you might know, Paris will host the Summer Olympics in 2024. To that end, Disneyland Paris has made a plan to expand the park. It will be bigger, much bigger. The plan is to add three additional lands to the park: Marvel, Frozen, and Star Wars.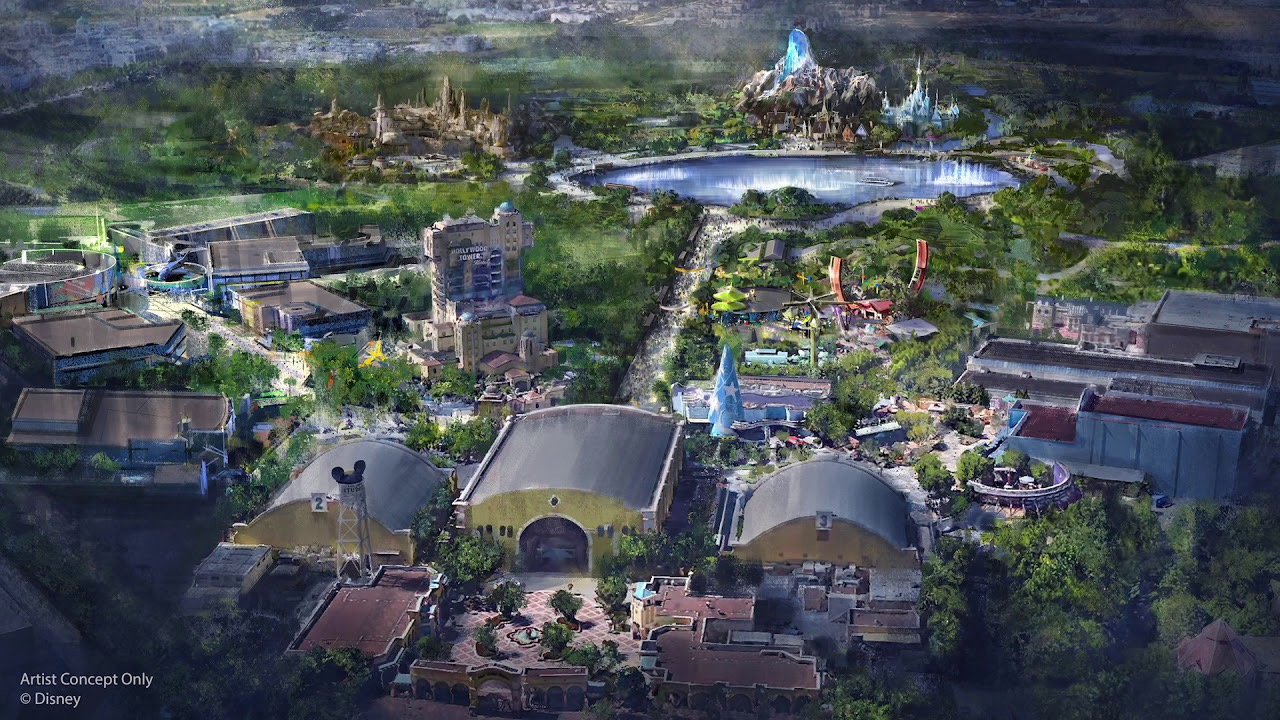 Currently, the land is themed around show business. It's supposed to remind you of Hollywood and the Golden Age of Film. Does it actually do that? Briefly...
What you see more of is a collection of random rides and three "lots", but really, it feels like there are only two fully fleshed out lands: Toy Story and Ratatouille. The lands are great, well designed and thought out. Toy Story has a similar feel to the old A Bug's Life land in California Adventures (RIP). It's meant to feel as if you have shrunk down to a toy's size and is mostly catered towards younger children, but I will say that RC Racers can give adults a thrill too.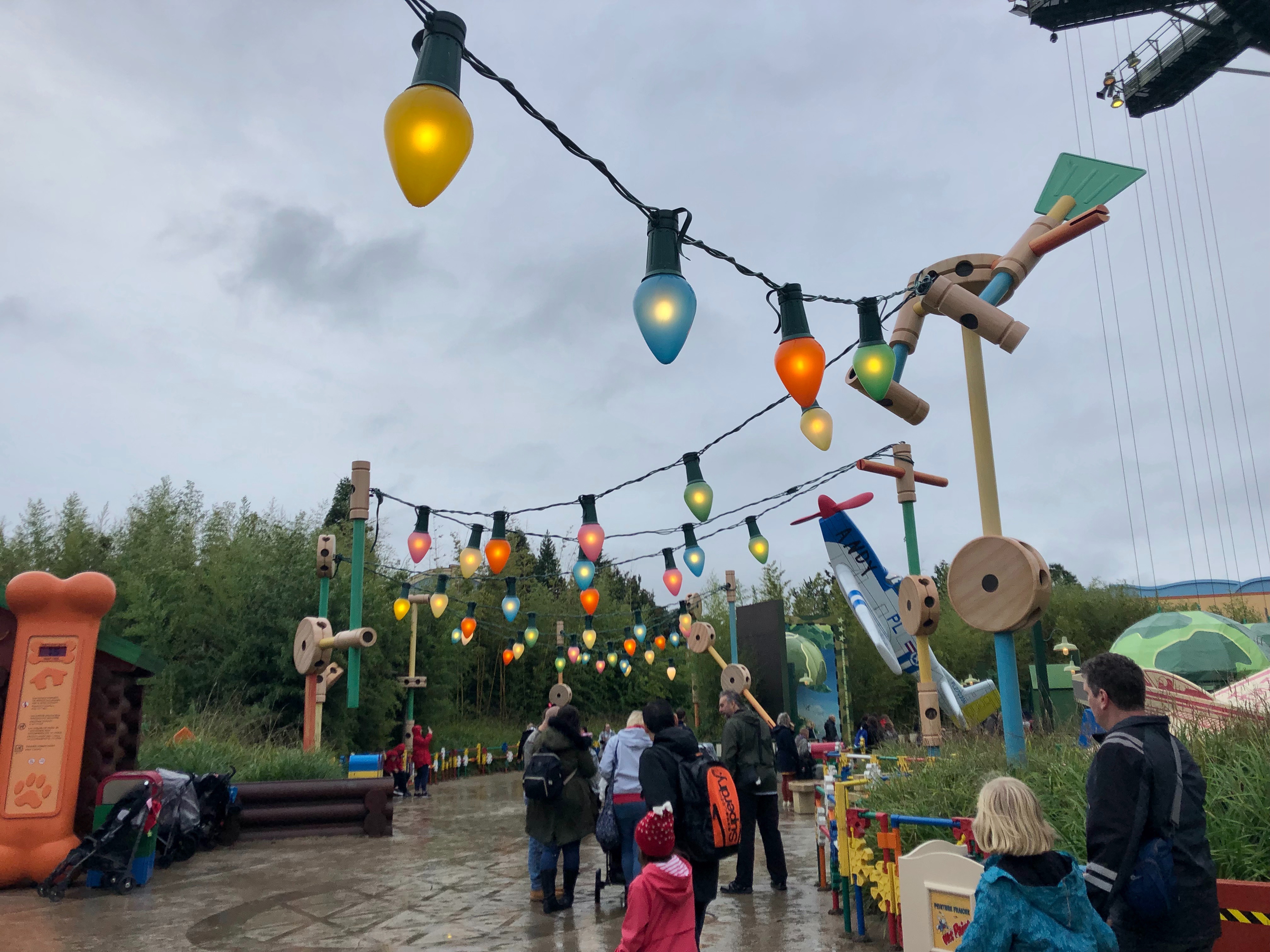 The best land is Ratatouille land, or area really, I'm not sure if it really qualifies as a land. It is (as of now) unique to Disneyland Paris and looks like a mini Parisian village, complete with one ride and one very popular (and expensive) restaurant. The ride takes you on 3D ride through the kitchens of Gusteau's, where you are shrunken down to the size of a rat and chased by Chef Skinner. The ride itself is very calm and relies mostly on effects given by our senses. To that end, we see the characters react to us on screen, we smell the food, we feel the heat of the ovens, etc. It's a perfect ride for young children and a great ride for all to visit at least once.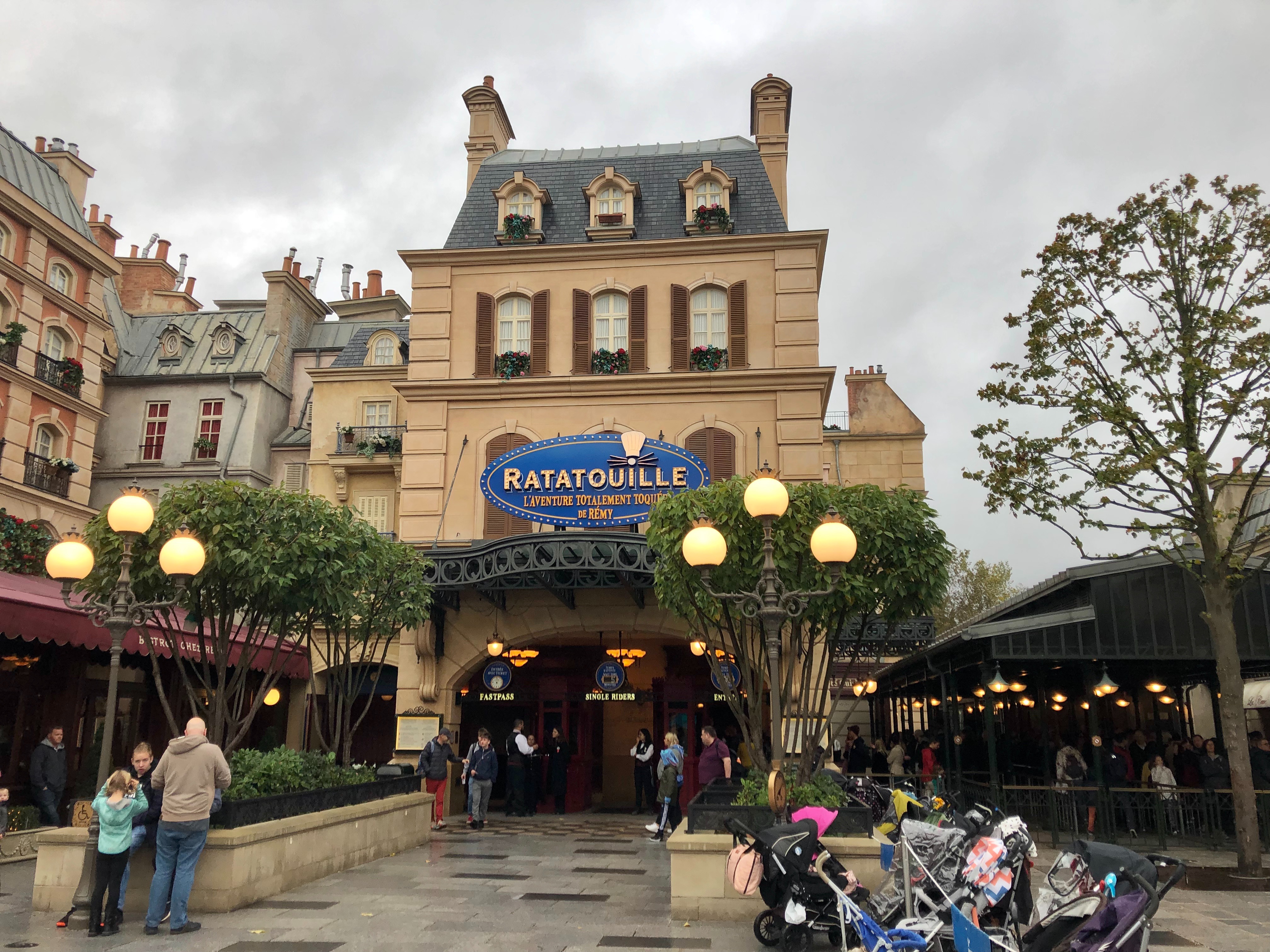 Tip! - If you are an adult and don't mind being separated from your group, go in the single riders line. You'll be on the ride in less than five minutes even when the regular line is over an hour.
The Front Lot
This is the entrance for the park, there are no rides, but there are many restaurants and shops.
(Below, the Walt and Mickey statue mark the end of the Front Lot)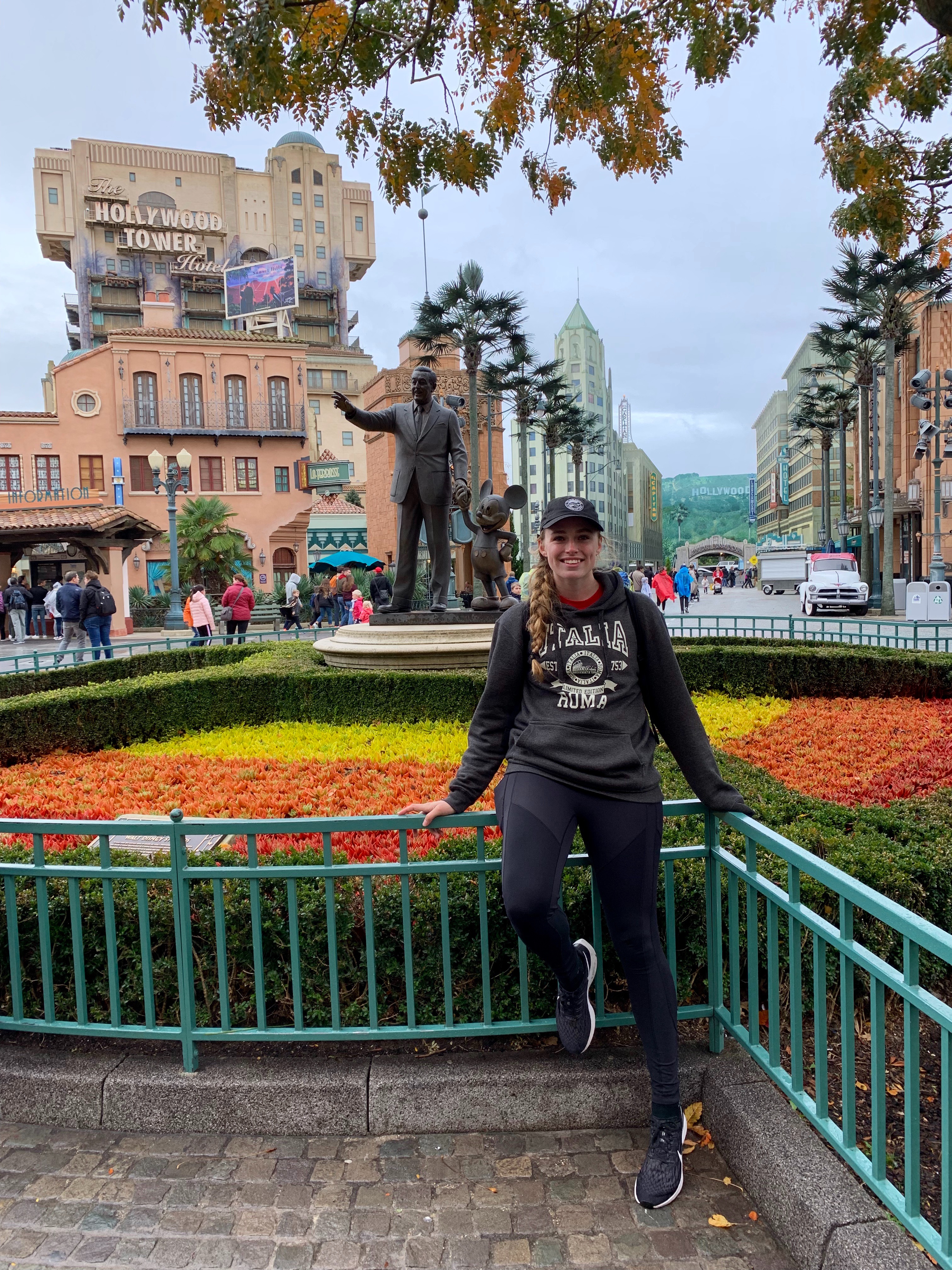 Toon Studio
This is where you'll see the mash up of rides dedicated to random Disney characters (i.e. Ratatouille and Toy Story land). The most prominent one is Crush's Coaster, by far the most popular ride in the park. It also, surprisingly, doesn't have a Fastpass.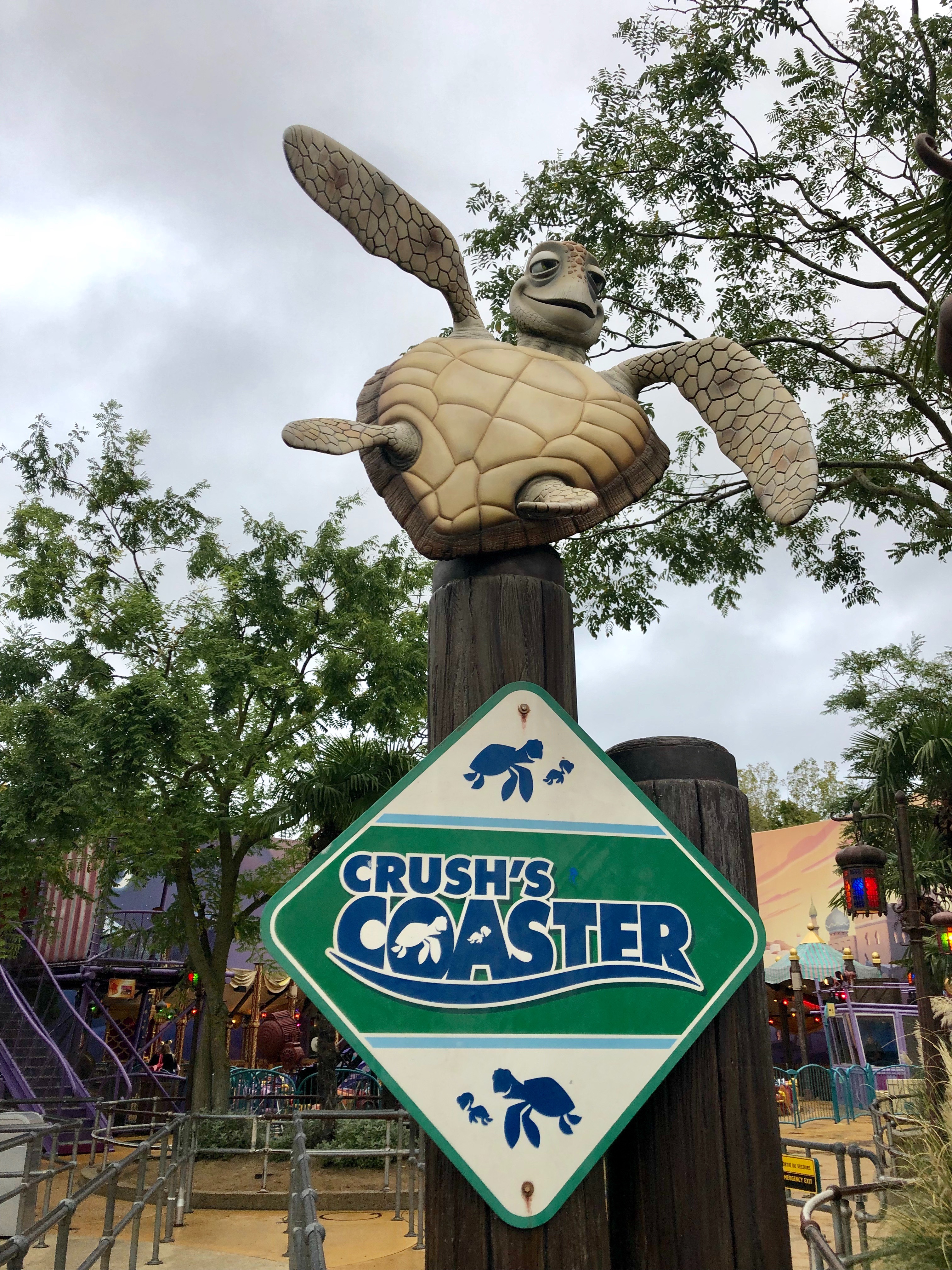 My advice? - Get to Crush's Coaster as early as possible or you won't have a prayer of getting on. It's a fun ride, but not worth two hours in line. I used my Magic Hours in this park just so I could be sure to get on and even then we waited for half an hour.
Production Courtyard
Another random assortment of attractions. Here, you'll find the Tower of Terror, a tour that takes you by old movie props, and an interaction with Stitch. Mostly, there's a lot of empty space and an unoccupied stage.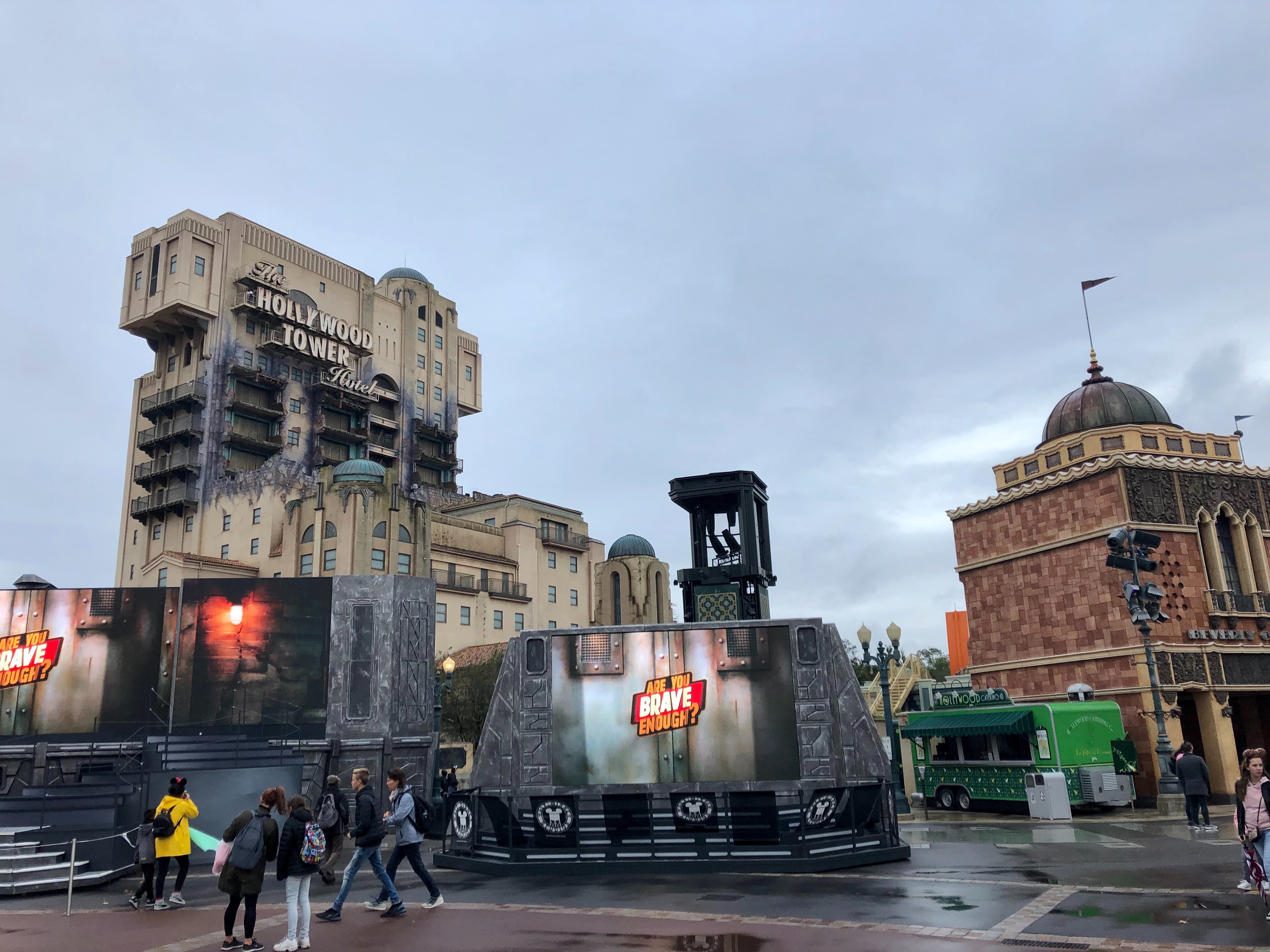 Backlot
This is where the Aerosmith roller coaster was, so I'm assuming this will become Marvel land. When I was there, it only looked like a construction site so we didn't venture back there. I do know there is another "behind the scenes" show that isn't all that popular, but caters to adults and older children, so, to each their own.
A Note - Overall, Walt Disney Studios realizes it's in a transition period. There truly isn't much to do and see in this park when compared to the other, and tickets for this park are a lot cheaper. Should you go and see it? Yes, if the ticket is in your price range (it varies throughout the year). Crush's Coaster is fun and Ratatouille land is very cool. And, of course, it's Disney!
Restaurants I recommend:
Le Bistro Chez Rémy (I couldn't afford to go, but I've heard rave reviews)
My Route
Magic Hours from 8:30 - 10.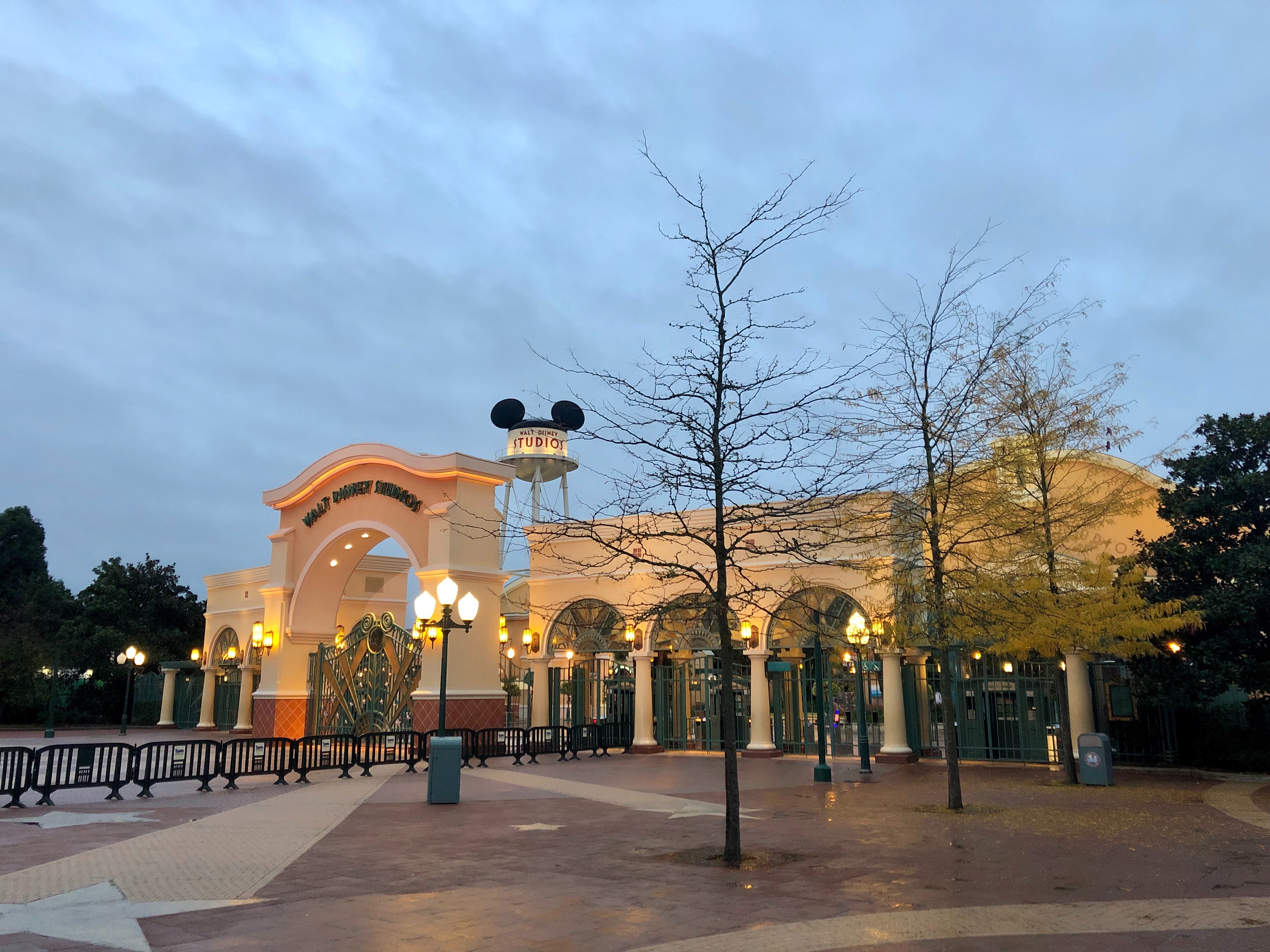 Head to Walt Disney Studios early to be among the first in line.
RUN to Crush's Coaster.
Do single riders on the Ratatouille ride.
Go to Toy Story land and do a ride there, keep in mind that single riders doesn't do much since there's only one trip at a time.
Try and do Tower of Terror (I didn't have time).
Walk around the park to see what you've missed (there isn't much).
Leave for Disneyland Park.
I got in the Disneyland Park at 10 after spending my magic hours in Walt Disney Studios.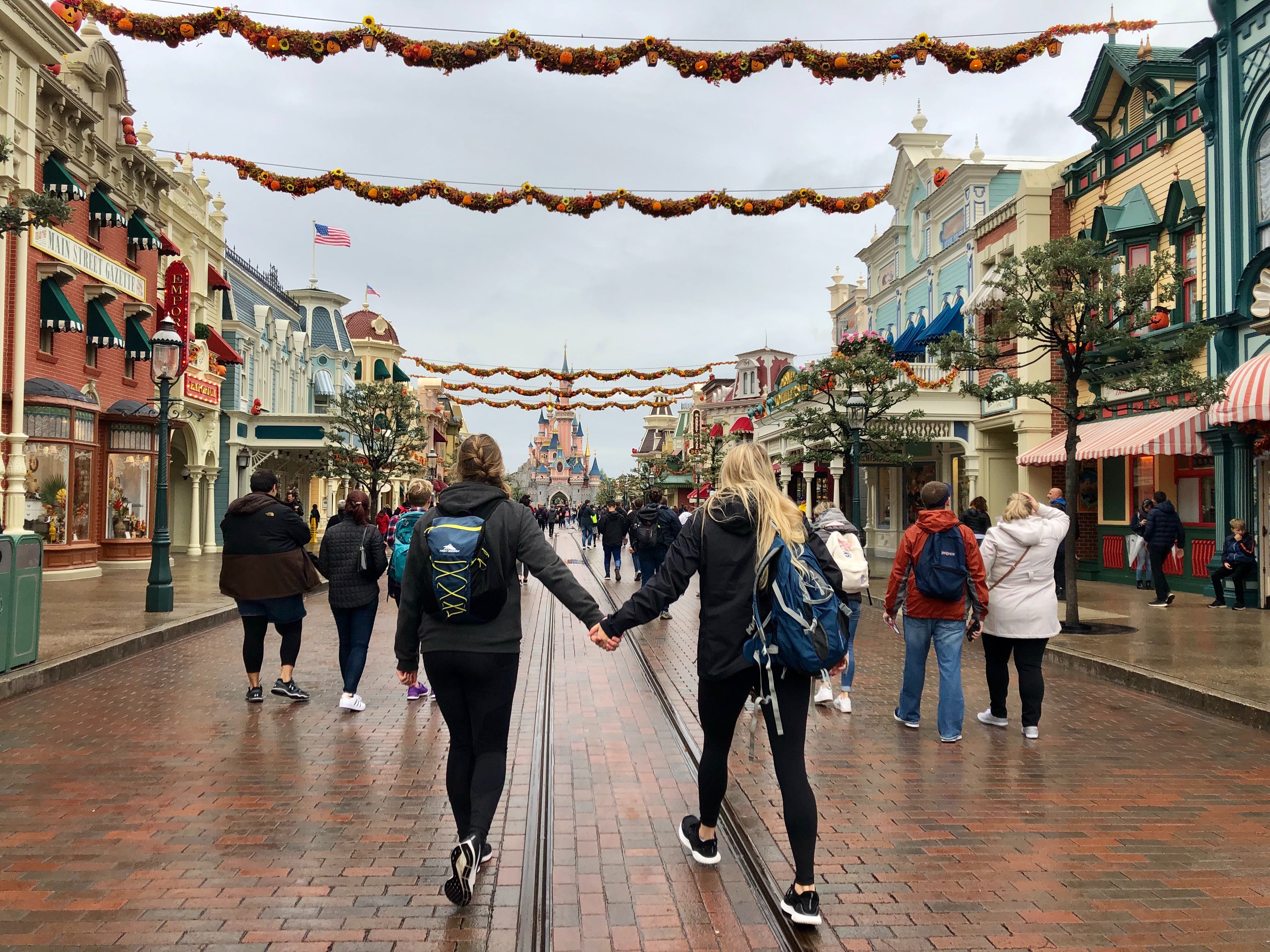 Main Street USA to Frontierland.
Get a Fastpass at Big Thunder Mountain. Mine was for 10:55 - 11:25.
Go to Phantom Manor.
After Phantom Manor, wander around this part of the park until your Fastpass time.
Ride Big Thunder Mountain.
Go to Peter Pan for a Fastpass. Mine was for 14:05 - 14:35.
Go to Pirates of the Caribbean and wait in line (it moves fast).
Head to Hakuna Matata restaurant for a quick and cheap bite, wander around Adventureland on your way there.
After eating, go through Aladdin's Bazaar and walk around.
See the dragon under the castle.
Go to Hyperspace Mountain (for some reason the line was tiny at this time).
Go to the tip of Main Street to watch the October parade and wait out your Fastpass time.
Ride Peter Pan.
Wander around Fantasyland.
Ride it's a Small World.
Ride the Teacups.
Go through the castle and onto the second level for views.
Look around shops near the castle.
Go down to the main stage to get a good seat for the villains show.
Shop in Main Street USA.
Get a good spot for the 17:30 (5:30) parade.
RUN to Hyperspace mountain.
Go to Star Tours afterwards.
Head to Frontierland for dinner.
After dinner, go find a good spot for the Fireworks show.
Watch the Fireworks show and make sure people don't push you out of the way, or if it's raining, don't let them put up umbrellas and block your view.
Leave Disneyland Park.
Head to Disney Village for a drink.
Head back to the hotel.
Brief Info on the Disney Village and Hotels
Disney Village
Originally called Festival Disney, the Disney Village is a shopping complex with restaurants and entertainment features like a movie theater and a Wild West Show. If you haven't got your shopping in yet, this is a good place to do it.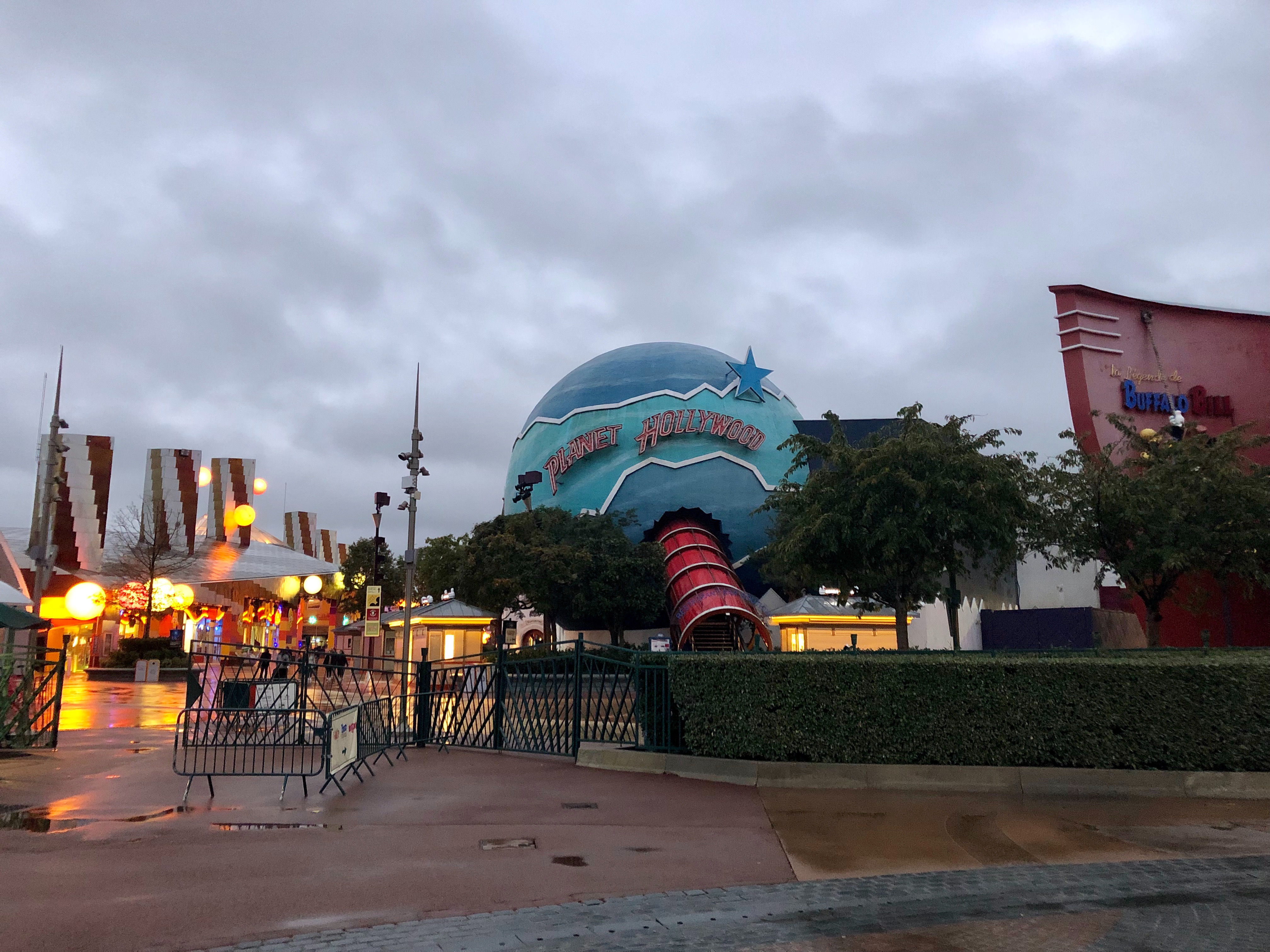 It's also a great place to get a drink after the park closes, that way you can avoid the mad rush in the parking lot.
Restaurants I recommend:
Sports Bar (yes, it's a sports bar named sports bar)
Rainforest Cafe
Disney Hotels
There are 6 Disney hotels, 2 Disney Nature Resorts, and 8 Partner Hotels. All of these have magic hours and are great options for your vacation. However, the Disney Hotels will be much more expensive (but have great Disney ambiance), the Partner Hotels will be cheaper (but isn't Disney themed), and the Disney Nature Resorts can have great deals (but don't have free shuttles so you'll need a car).
I stayed in a Disney Nature Resort called Disney's Davy Crockett Ranch. It had an amazing deal even though we were looking late for accommodations and had all the bells and whistles I love from Disney hotels. It's Wild West themed (sometimes controversially), and has mini log cabins for their guests to stay in, complete with a kitchen and living room.
A Note - You don't have to buy your park tickets through the hotel packages. Sometimes it can be great, but you really have to pay attention to timing. For instance, if you came in late on a Monday to the hotel, your ticket would be for that Monday, not for Tuesday, because Monday is the night you stay. 
Overall, you should stay in a Disney hotel or Partner hotel, especially if you only have one day to enjoy the park. The magic hours are absolutely vital.