A One Day Guide to the Louvre Museum
A how-to guide on the herculean task of visiting the Louvre in just one day!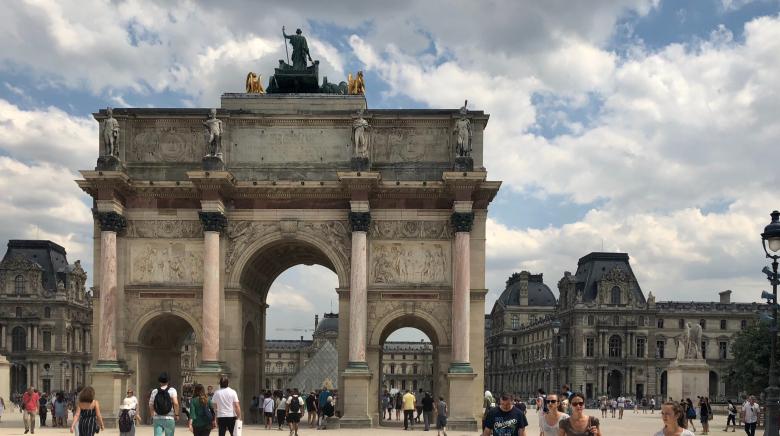 Is it hard being the biggest art museum in the world? Or the most visited? The Louvre would have you think not. They've got art down to a science.
To see the Louvre in only one day is a mammoth task, there are over 35,000 pieces of work on display and 9.6 million visitors went to see them in 2019. You will have to fight time, fatigue, and the other tourists clamoring to get a spot so they can take uncomfortably zoomed-in pictures of famous art.
However, it can be done! Whereas there is no way to actually see every single piece of work at your leisure, you can prioritize your favorite exhibits, learn the tips and tricks to save time, and visit less crowded exhibits that are woefully underappreciated.
I. Background Information
The Louvre, or Musée de Louvre, is located in Paris, France on the banks of the Seine and is only a short walk away from Notre Dame.
It is ranked as the best and most visited museum in the world.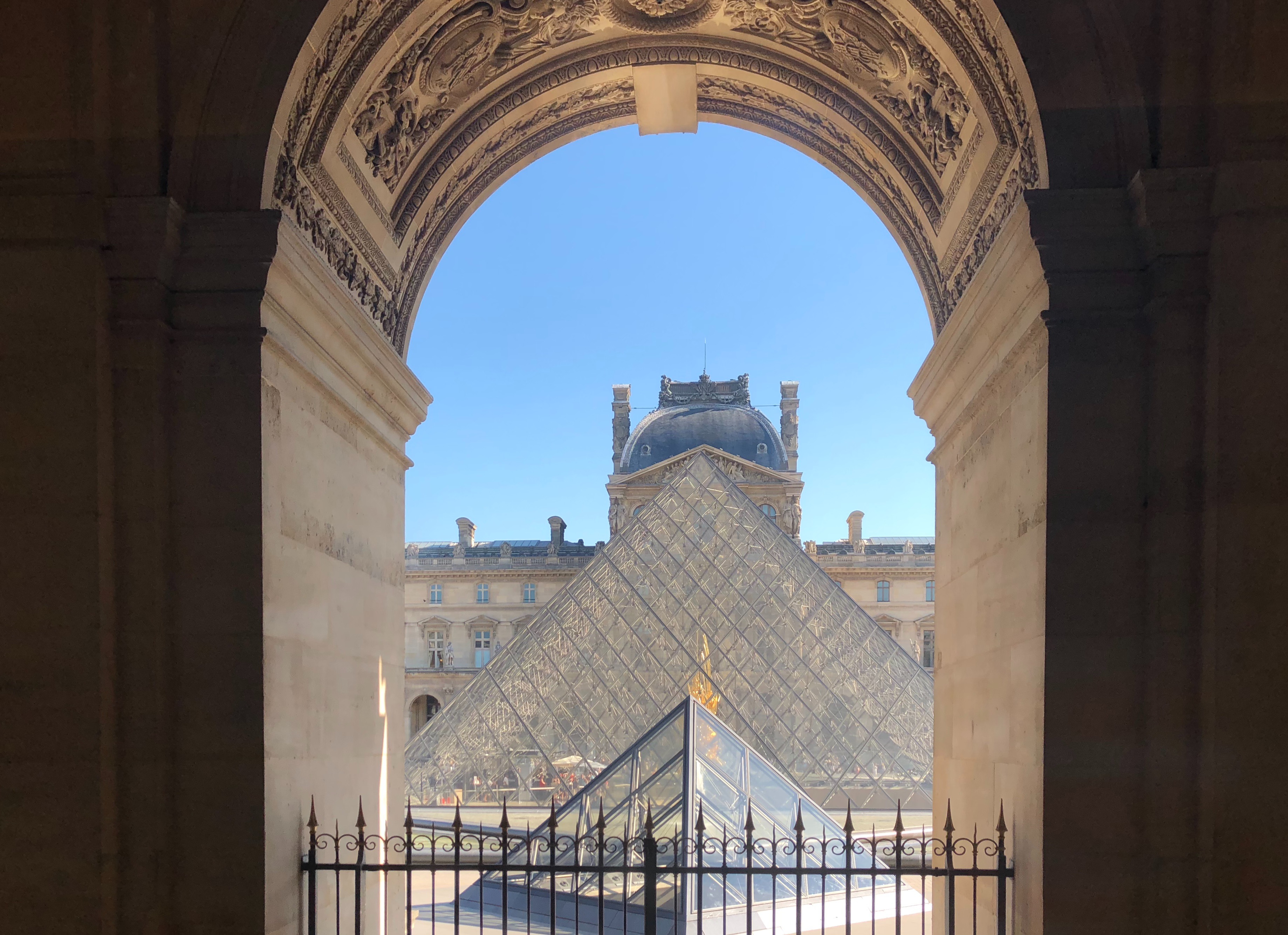 It is open every day except for Tuesdays and occasional holidays from 9 am - 6 pm (9:45 on Wednesdays and Fridays).
It costs 17 Euros for an individual ticket and 26 Euros for a Louvre-given guided tour. However, there are outside sources that provide different prices for a range of guided tours.
The Museum was originally a palace, and before that a castle (yes they are different), the remains of which can be seen under the Museum.
It was briefly renamed Musée Napoleon due to the flood of new works that came in under his reign, but after his downfall the works were returned to their original owners and the name back to the original title.
II. Getting In/Strategizing
Going to the Louvre early is by far the most important thing you have to do.
If you have a guided tour, book the earliest one. If you're by yourself, buy an online ticket so you don't have to wait in the famously crazy line and get there right when it opens, if not earlier.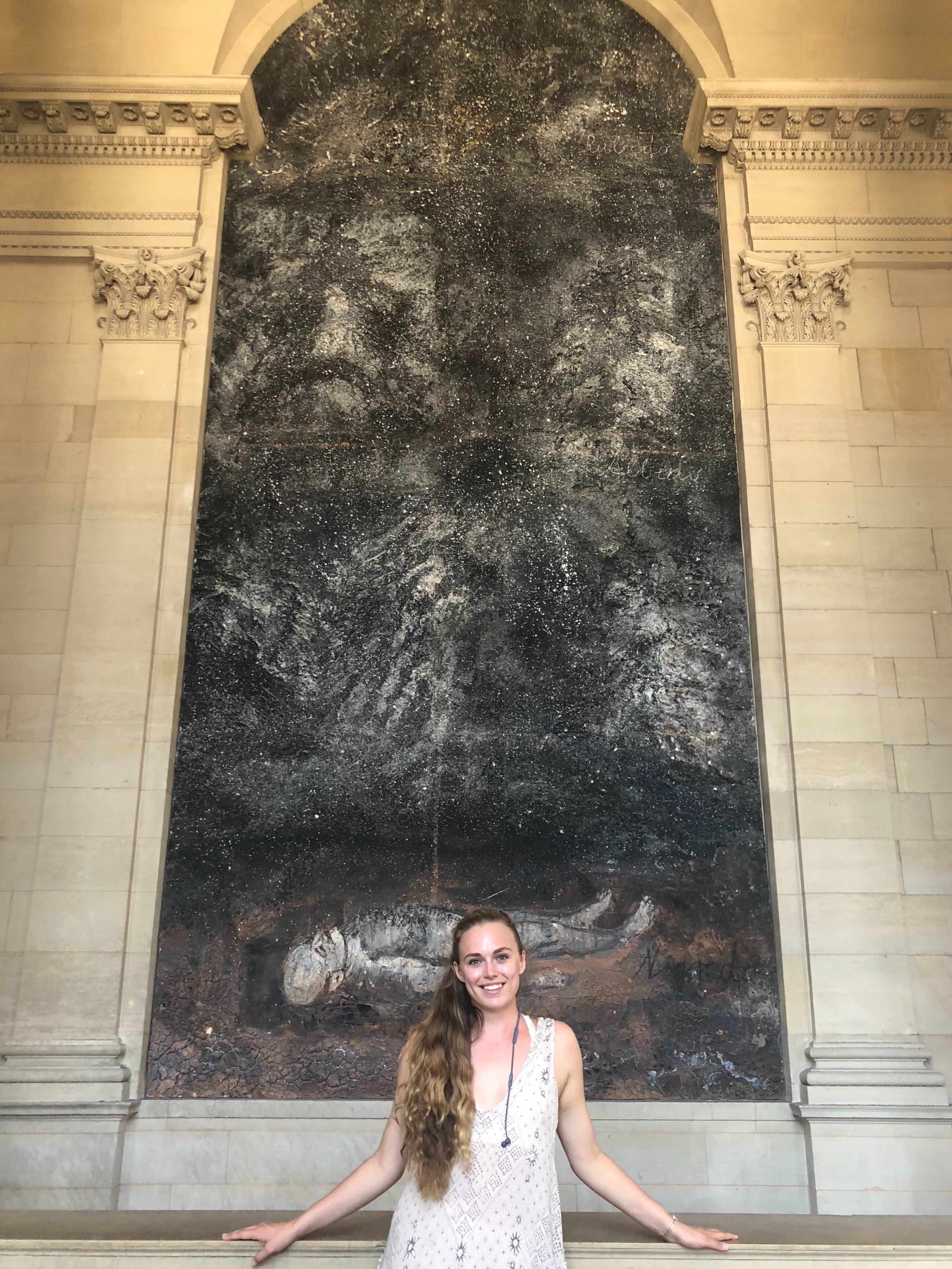 A Note - I took a guided tour with my family that was ran by a company outside of the Louvre and while I can say my parents loved it, I enjoy experiencing art by myself without the restrictions of a group. So for those who feel they need to learn the backstory  of art to truly appreciate it, a group might be a good idea for you, but realize that your time in the Louvre will be cut down a bit (our tour ran 1.5 hours long and was only in the Denon Wing).
Should you get an audio guide? It's up to you, but I preferred not to. The guide can get confusing as it feels like an old video game console and was oddly complex, but somehow also not updated enough. It had a hard time tracking us and it wouldn't give clear markers for the exhibit, occasionally making you listen to something twice. To me, it's a hassle. However, I will say that going without can also be challenging for some because all exhibit descriptions are written in French.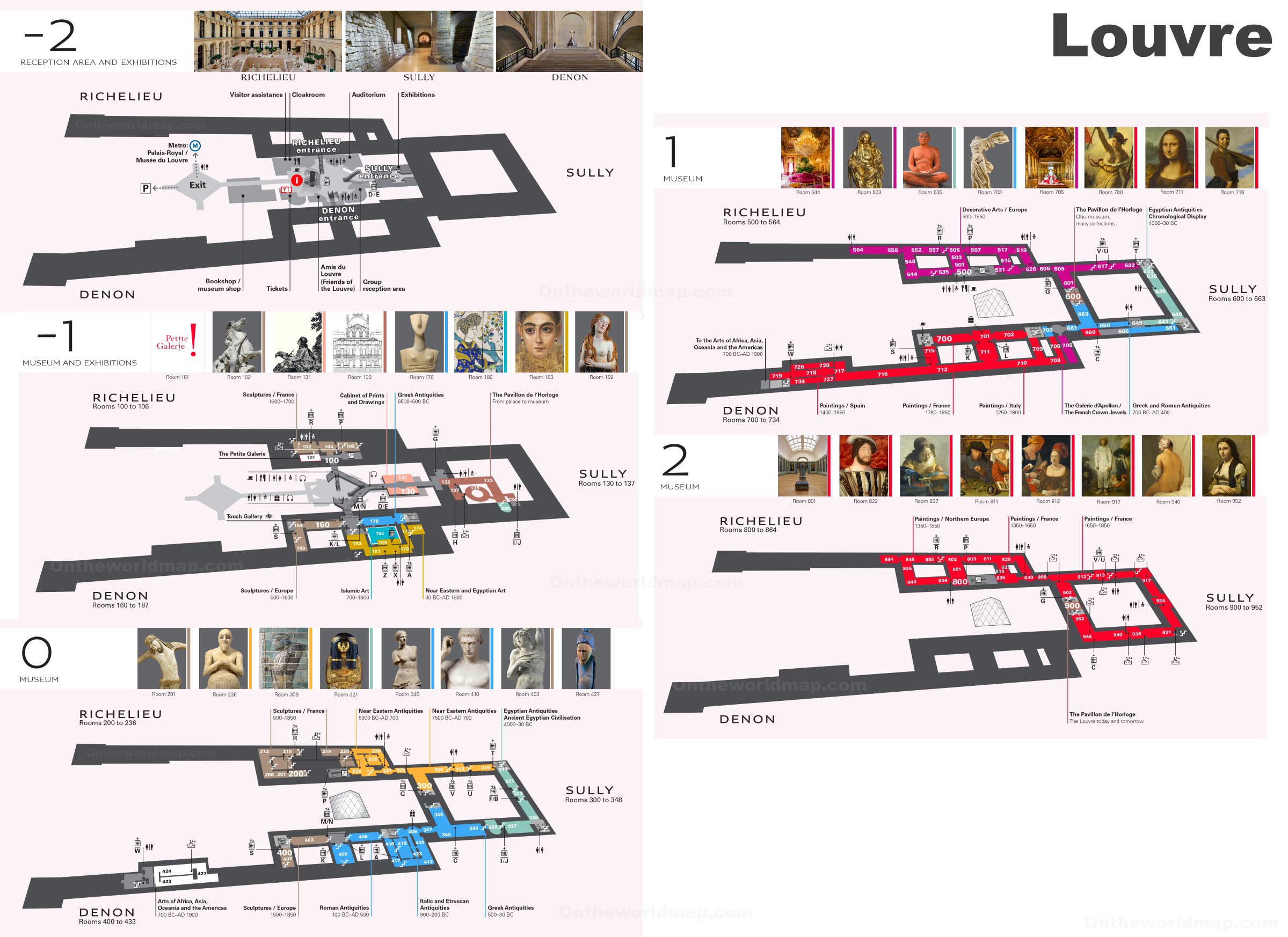 A brief breakdown of my day...
There are 5 floors and 3 wings - Denon, Sully, and Richelieu. All are named after important men in French history.
There are 8 different departments to see, each scattered around differed floors and wings.
The Denon wing gets the most crowded because it has some of the most popular pieces (the Mona Lisa, Nike of Samothrace, Liberty Guiding the People, etc), so going here first and early is a must - our group started here first so the professionals do it too. Enter Level -2 on the Denon side and go up to Level 1, take your time in Level 1. 
My goal was to see the Roman, Greek, and Egyptian antiquities. The Denon wing holds the most Roman antiquities on level 0, then the Sully wing connects and displays Greek and Egyptian antiquities on level 0 and level 1. See Level 0 in Denon and move to Sully Level 0, go to the end of the Egyptian Antiquities and move up to Level 1 in Sully, then see the artifacts heading back in the direction of Denon. 
On level 1 in Sully there is a connection facing the glass pyramid that will reroute you back to the Richelieu wing after you have seen the Egyptian antiquities. Level 1 in the Richelieu wing has decorative arts of Europe and direct connections to the Louvre's mixed past (Napoleon's apartments, remade kings quarters, etc). Go to room 600, the connecting room in Sully that brings you back to Richelieu, explore Richelieu Level 1. 
Here, you have an option. You can either go up to level 2 and see French paintings, or go down to level 0 and see sculptures and New Eastern antiquities. You can try to do both, but you'd have very little time to spend with the artifacts. I briefly went to Level 2, but quickly went down to level 0 to explore the New Eastern antiquities and rested in the two courtyards filled with statues. Go down to Level 0 and explore Richelieu. 
Very taken with the statues, I moved down to level -1 to see them further, then moved to the other wings to see level -1. Level -1 is much smaller than the other levels, with the most to see being in the Denon wing. You can get to these places however you see fit, but try and end up in the Sully wing in room 133 to end your day with seeing the origins of the Louvre. Explore Level -1, end day in Room 133. 
A Note - For an easier viewing, I will talk about places to get food and drink after my summaries of each floor.
III. The Denon Wing
A Note - Although I did not go through the Louvre wing by wing, I will write about each wing separately as I already detailed above how I moved through the Louvre and was able to see as much as I did. Each description will only be a little blurb about the area.
The Denon Wing has antiquities to see on level -1 through level 1, and houses some of the most famous pieces in the whole museum.
Level -1
Collections: Near Eastern and Egyptian Art, Islamic Art, Greek Antiquities, Sculptures/Europe.
Popular Works: "Monzón Lion".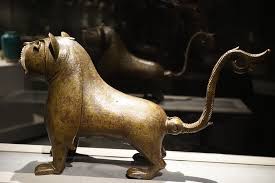 This is the level of the Louvre that I imagine frustrates the people that work there the most. It's a hodgepodge of collections from different parts of the world, but there isn't a piece that stands out as a MUST SEE at the Louvre and therefore most people miss it or just walk through it really quickly without appreciating it (guilty party right here).
However, I imagine that they understand our hesitance to stop, because when trying to make your way through the extensive archives of the Louvre, you'll have to make some sacrifices to what you're able to see. As I started with a tour that mainly only took me through the ground level and upper level of Denon before venturing off on my own, I did not explore this level of Denon as much as I should. But you can only do so much with so little time.
Level 0
Collections: Sculptures/Europe, Roman Antiquities, Italic and Etruscan Antiquities, Arts of Africa, Asia, Oceania, and the Americas.
Popular Works: "Psyche Revived by Cupid's Kiss," "The Rebellious Slave," "Chiusi Fibula".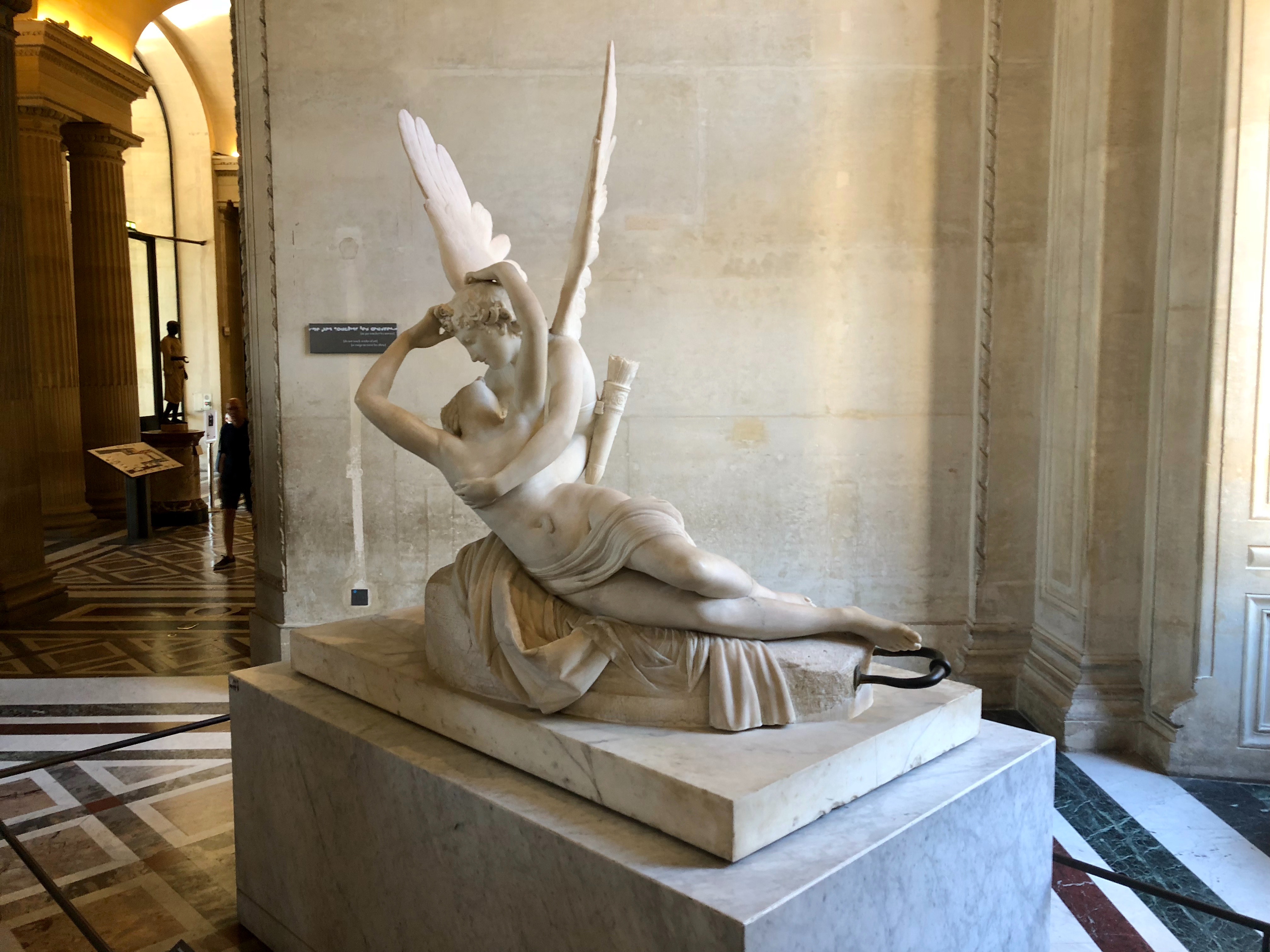 This area has some absolutely gorgeous statues and pieces but is often overlooked for its more famous upstairs neighbor. As I say above in the strategizing part, go to Level 1 first before this floor so you don't have to rush through this part. Each statue has a story, and it's worth looking a few up if you have the time.
Fun Fact! - The myth of Psyche and Eros (Cupid) always fascinated me when I was younger. It's a story not many have heard before, but it has influenced so many artists over the years. Ironically, some parts of the story seem a little Beauty and the Beast-esque... are any ideas actually "original"? Either way, I prefer to use the Greek name Eros rather than the Roman name Cupid, because Eros was often described as a teenage youth instead of a child like Cupid, which I think bodes better for the love story and their near nude statues.
Level 1
Collections: Paintings/France, The Galerie d'Apollon/The French Crown Jewels, Paintings/Italy, Paintings/Spain, Paintings/Great Britain/United States.
Popular Works: "Mona Lisa," "Liberty Leading the People," "The Coronation of Napoleon," "The Raft of the Medusa," "The Intervention of the Sabine Women," the "Regent" Diamond, etc.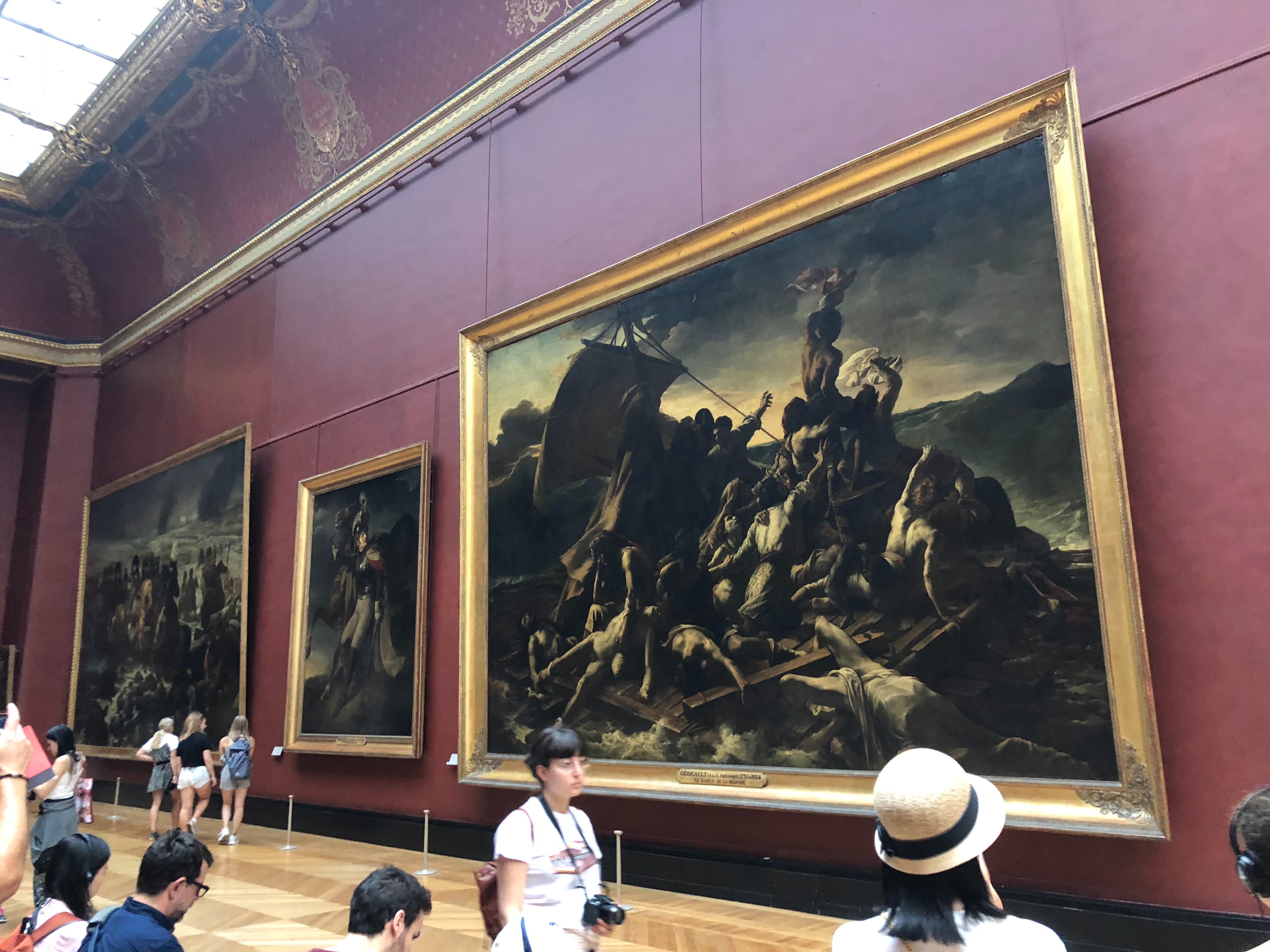 This is the big one. Walking through this part of the Louvre fills you with awe, and the overwhelming desire to punch every other tourist in the face just so you can have more room.
Yeah, it gets crowded. With major names like Botticelli, Raphael, and da Vinci, it's no wonder that this wing is the most popular. The halls have eye wateringly tall ceilings to either accommodate paintings that stretch three times your height, or such a large amount of smaller paintings, each more gorgeous than the last, you won't know where to look!
My recommendations to get through this space are above, but i will stress again that you must get to this wing early! If you don't, you'll be suffocated by the heat and body odor of hundreds of clustered tourists, barely shuffling along fast enough to keep you from shoving someone.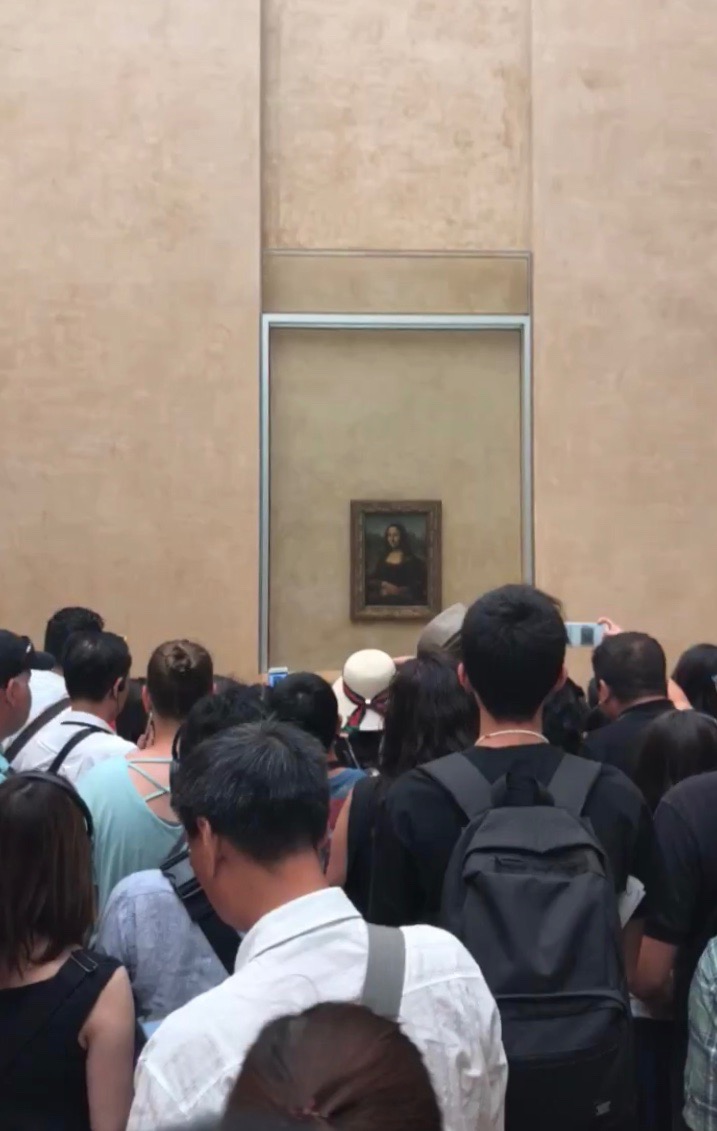 I realize I've mentioned violence twice in this part of the wing, there is a reason! I AM NOT EXAGGERATING. It is hectic and so stressful, however, it houses gorgeous art so it's still a must-see.
Tip and Warning! - Do not try to see the Mona Lisa up close if there is a crowd, it will take you forever and the picture itself is slightly underwhelming due to its small frame. Additionally, that particular crowd is a haven for pickpockets. My advice is for you, or a tall friend (or stranger, go make some friends) to stand to the side and whoever has the best camera, zoom up on the painting and take a picture. You'll still get your Mona Lisa picture but you won't be subject to that ball of stress.
Another can't-miss spot on this level is room 705, the Galerie d'Apollon, where they hold the French crown jewels.
At some point in your life you've seen a period movie or TV show that includes a fancy French lady or man decked out in jewels and you've thought... wow those look fake. Well if you want to see these types of jewels in person (news flash, they're real), this room is a must. If you're not a jewels and septers type of person, this room is also one of the most gorgeous things I've ever seen in my life, and is definitely one of the gaudiest.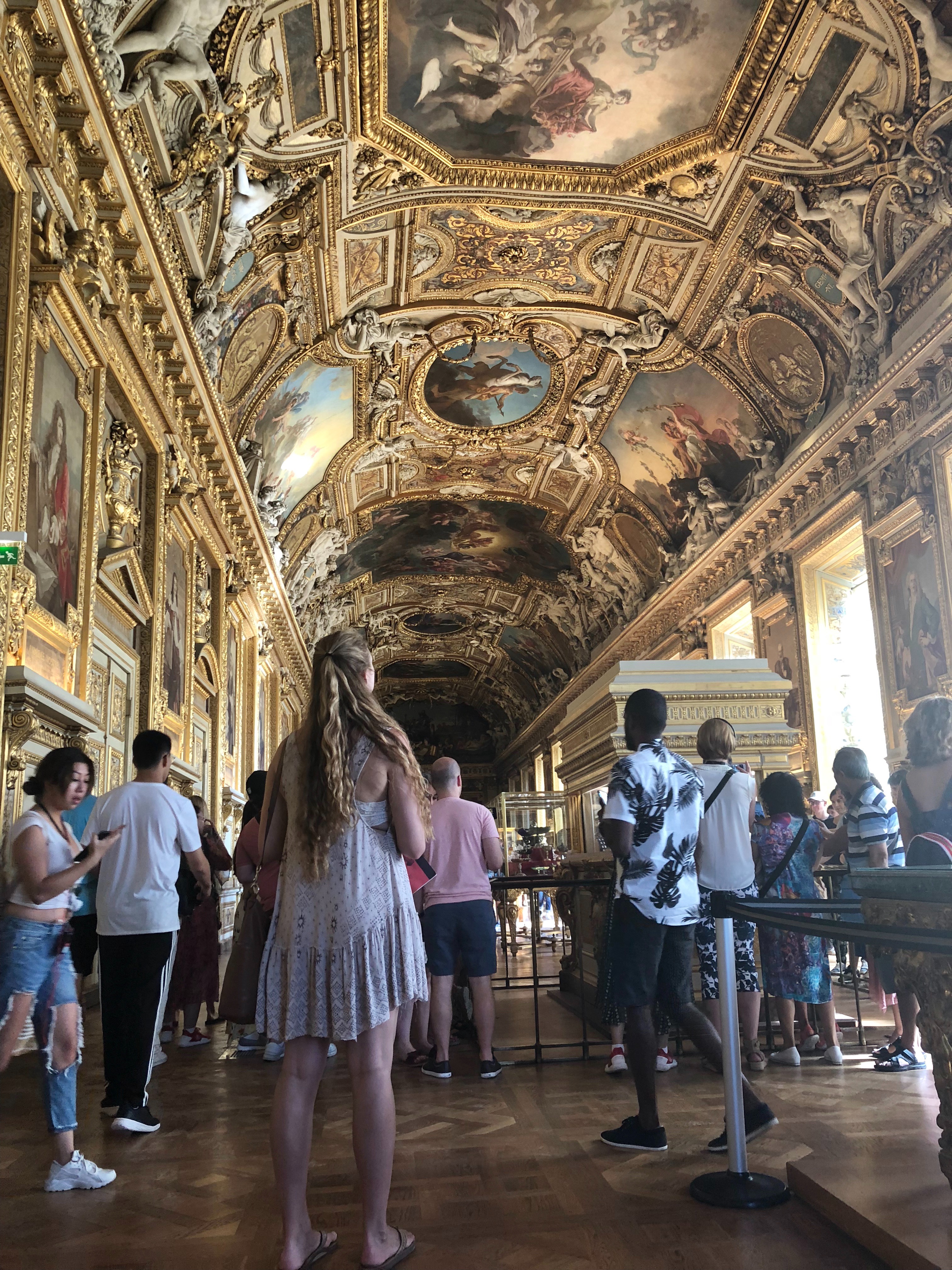 Fun Fact! - The decorator for this room was Charles Le Brun. After his work at the Louvre was completed, the king hired him immediately to start work on his little hunting lodge that soon became the palace of Versailles.
IV. The Sully Wing
The Sully Wing has antiquities to see on level -1 through level 2. I like to think of it as the Egyptian Wing, although it has many other things to see.
Level -1
Collections: Cabinet of Prints and Drawings, The Pavillon de l'Horloge.
Popular Works: "Landscape with Classical Architecture," "The Fall of Icarus," "The Great Sphinx of Tanis".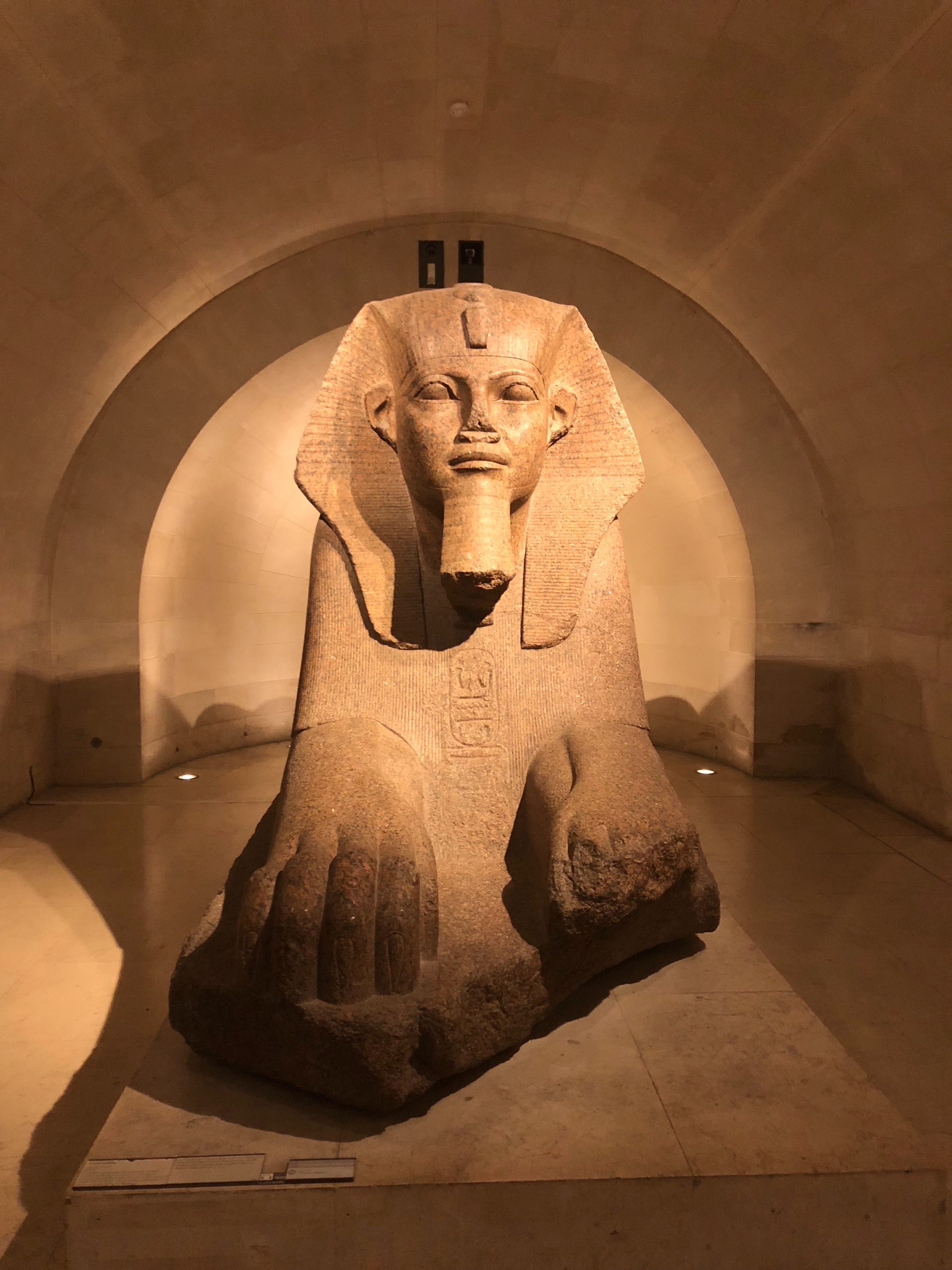 This is a bit of an overlooked floor, known mostly for the Sphinx. To be fair, the Sphinx is amazing and the Louvre is overwhelming. However, this floor shouldn't be missed because it also shows the remnants of the old fortress walls that the Louvre was built on top of, as well as an exhibit that shows you how the Louvre went from castle to museum and everything in between.
Even if you only want to come down to this level for a picture of the Sphinx, try to walk around the ancient walls and take a look at what the Louvre was before it became one of the most popular museums in the world.
Level 0
Collections: Near Eastern Antiquities, Iran, the Levant, Arabia, Greek Antiquities, Egyptian Antiquities.
Popular Works: "Venus de Milo," "Winged Victory of Samothrace," the sarcophagus room, "Frieze of Archers," "Sennefer's necklace".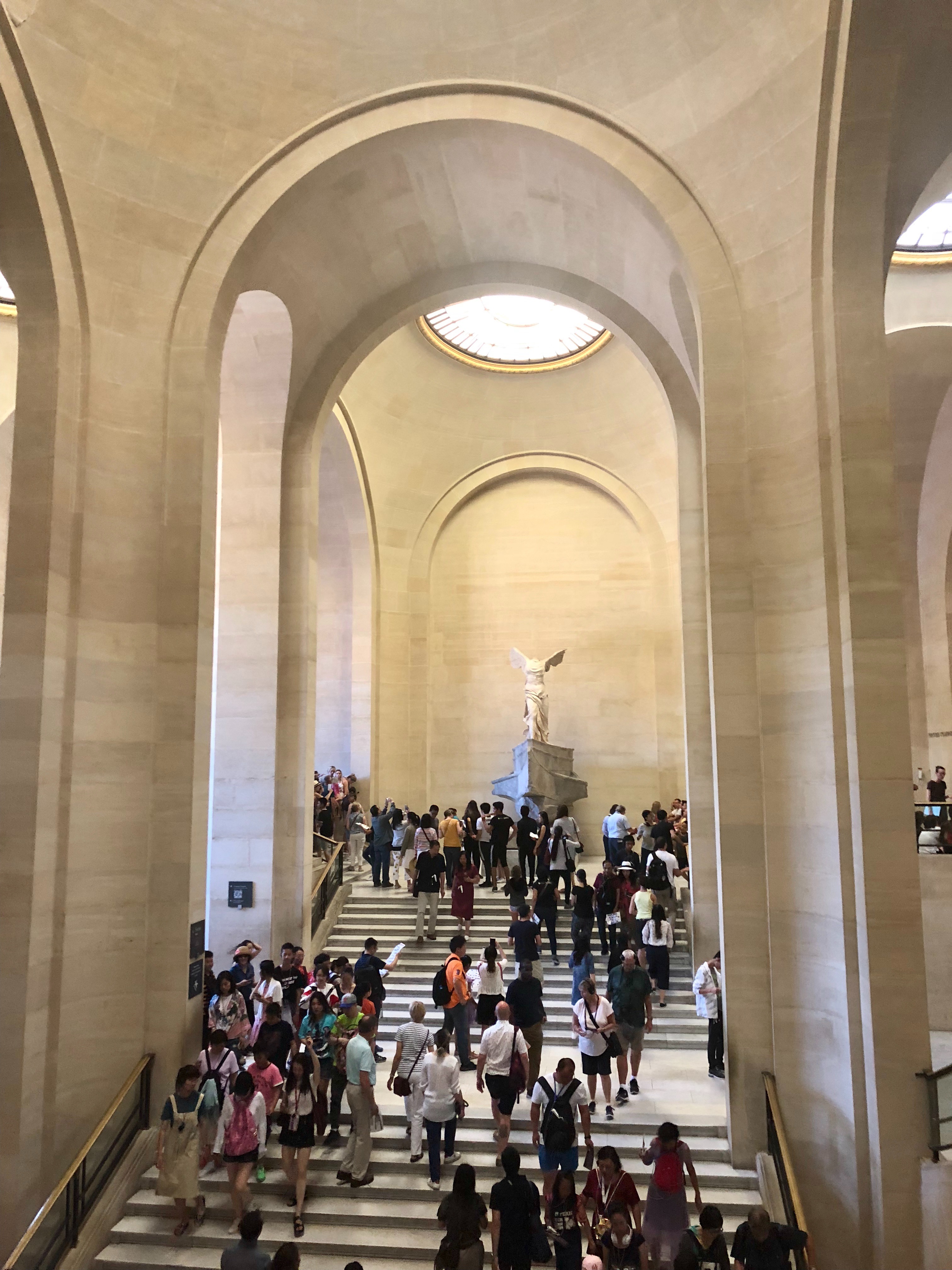 After the Mona Lisa, I'd say some the most photographed pieces in the museum are the Venus de Milo and the Winged Victory of Samothrace. However amazing these pieces are, they weren't actually my favorite part of this floor. My favorite part was room 348, also known as the Salle des Caryatides.
This room holds Roman and Greek art, with the gorgeous Caryatides as the focal point of the room. Caryatides are female statues that hold up structures in the place of a column and are reasonably common in ancient Greek architecture. I had seen some on my trip to Athens, but had never been up close. Being able to walk among them gave me an odd sense of calm, as if they'd hold the world up and protect me (the feminized version of Atlas).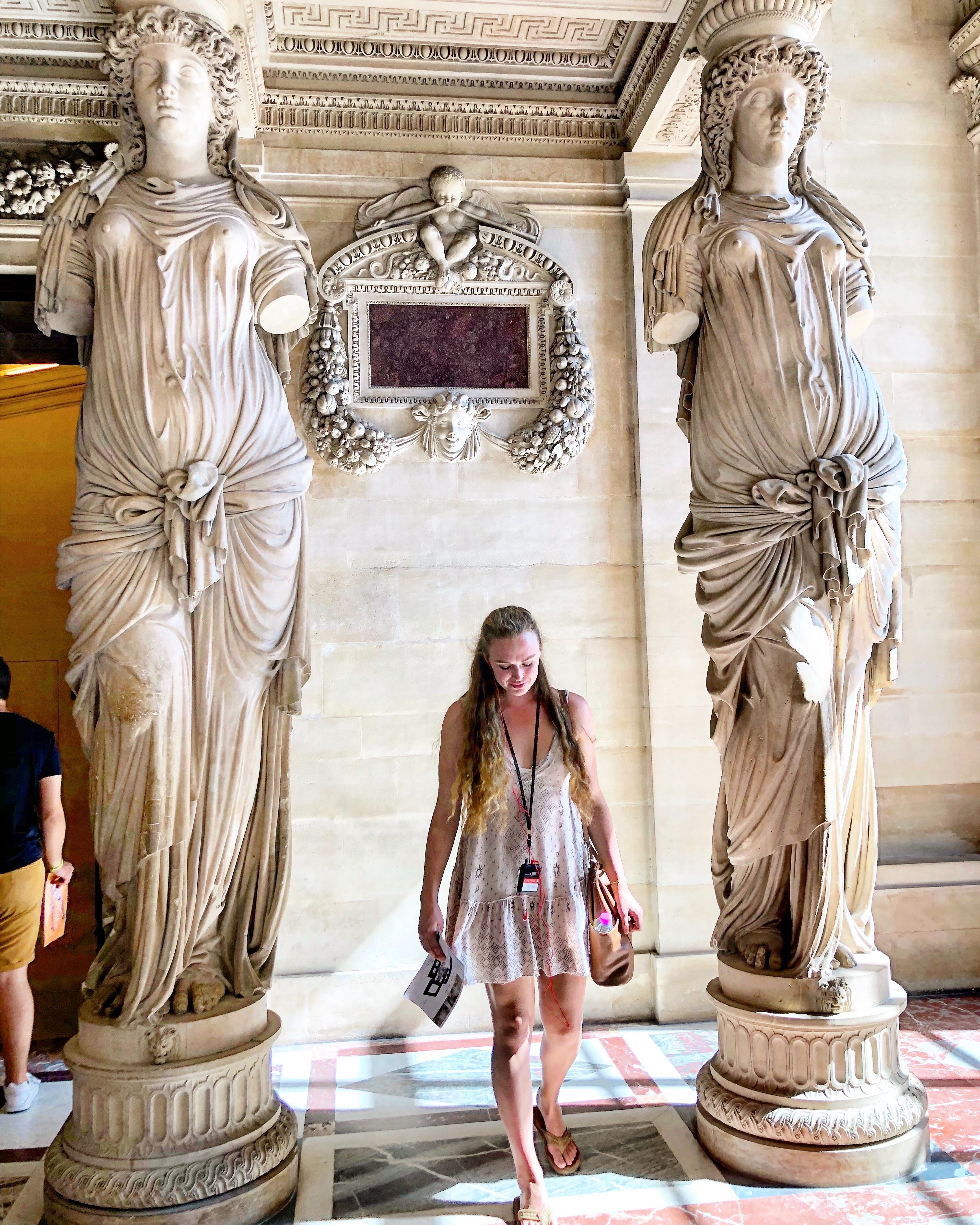 Other than my favorite room, this floor has a variety of different things to see, from different countries and different time periods. However, as I said before, I still tend to think of this floor as the beginning of the Egyptian collection. Egypt dominates the Sully wing, and this is where you'll first encounter that.
Fun Fact! - Apparently the reason why the Egyptian antiques aren't shown chronologically is because the heavier pieces couldn't go on higher levels. So instead, they mainly went by theme.
Level 1
Collections: Decorative Arts/Europe, Greek and Roman Antiquities, Egyptian Antiquities.
Popular Works: "The Seated Scribe".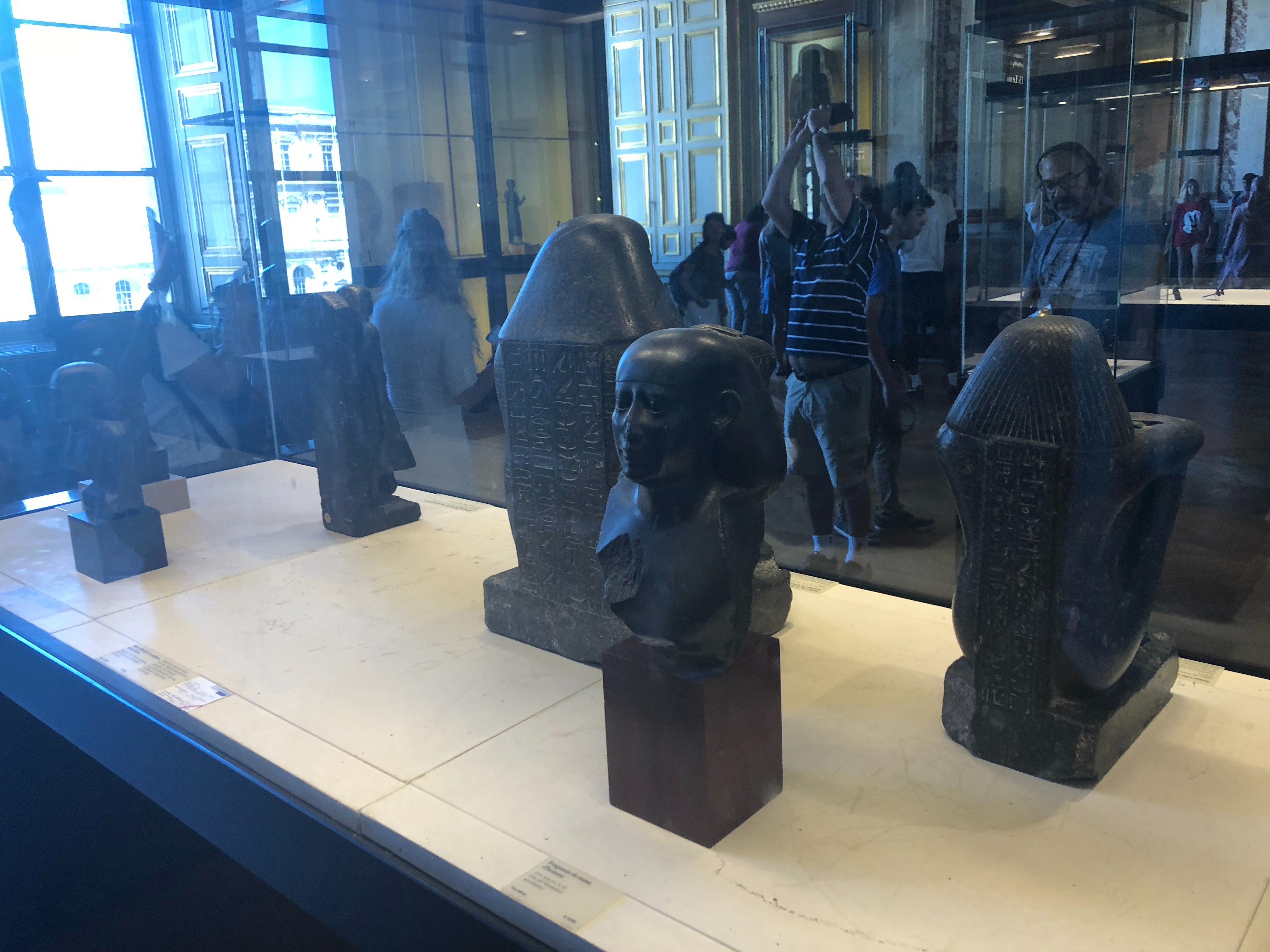 This floor was an extension of the ground floor, bringing up a few Greek and Roman artifacts but mainly focusing on Egypt.
Funnily enough, you'd think that the Louvre has the largest collection of Egyptian artifacts outside of Egypt, but it's actually the British Museum. Since I've been to both, I can say that whereas The British Museum had more to see in regards to Egypt, the Louvre arranged their pieces in a more interesting way that allowed for an easy flow in and out of the wing. It was more... clustered? I'm not really sure how to describe it. Everything was there, not a space wasn't filled up with an ancient necklace or a statue or a mummified cat. It was overwhelming, but let us get through quickly without losing focus, allowing us to see absolutely everything we wanted to.
Level 2
Collections: Paintings/France.
Popular Works: "The Cheat with the Ace of Diamonds," "Pilgrimage to Cythera".
This floor's theme connects with the adjoining Richelieu, showing more underrated French paintings. If you're short on time and you have to pick one of them, don't pick this one because I had a sneezing attack in one of the rooms and now I'm biased against it. Is that fair of me to say? No, not really but the one who holds the pen (or, keyboard I guess?) has the power.
V. The Richelieu Wing
The Richelieu Wing has antiquities to see on level -1 through level 2. It is the most underrated and least-crowded wing, thus my favorite wing to visit when I needed to take a breather.
Level -1
Collections: The Petite Galerie, Sculptures/France.
Popular Works: "The Marly Horses," "The Wrestlers".
Home of Cour Marly and Cour Puget, or, one of the homes. These two gorgeous courtyards extend upwards into Level 0, giving a airy display of French sculptures among water features and plants.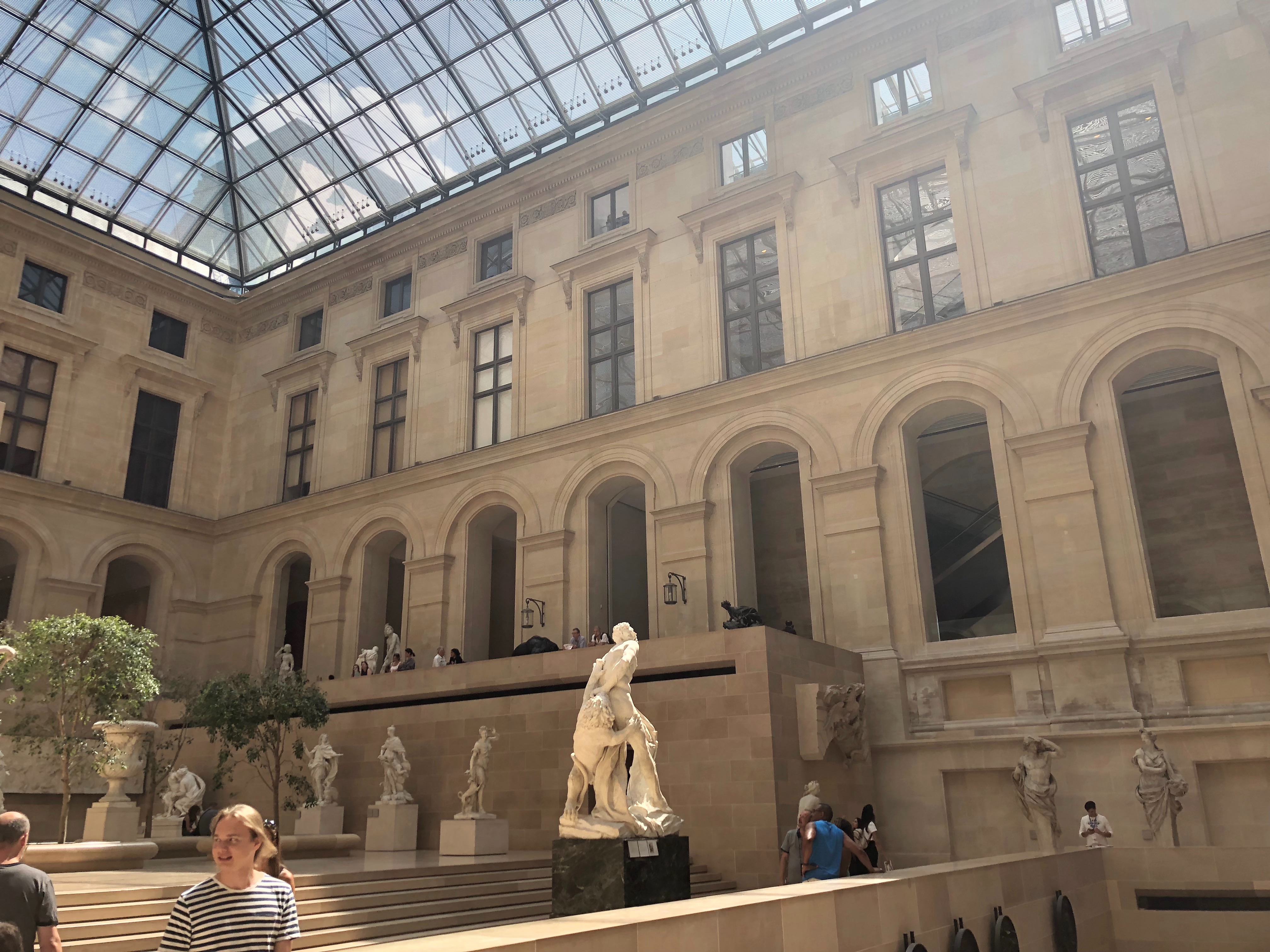 These two courtyards are very popular with people who know how to get around the Louvre because they are the ultimate kick-back and rest spots. With high glass ceilings and natural sunlight spilling out onto spacious displays of beautiful statues, you'll never want to leave!
Tip! - For those artists out there, this is the perfect place to sit and sketch. You'll see many people following suit.
Level 0
Collections: Sculptures/France, Near Eastern Antiquities, Mesopotamia, Iran.
Popular Works: "Law Code of Hammurabi, King of Babylon," "Spartacus," "Perseus and Andromeda".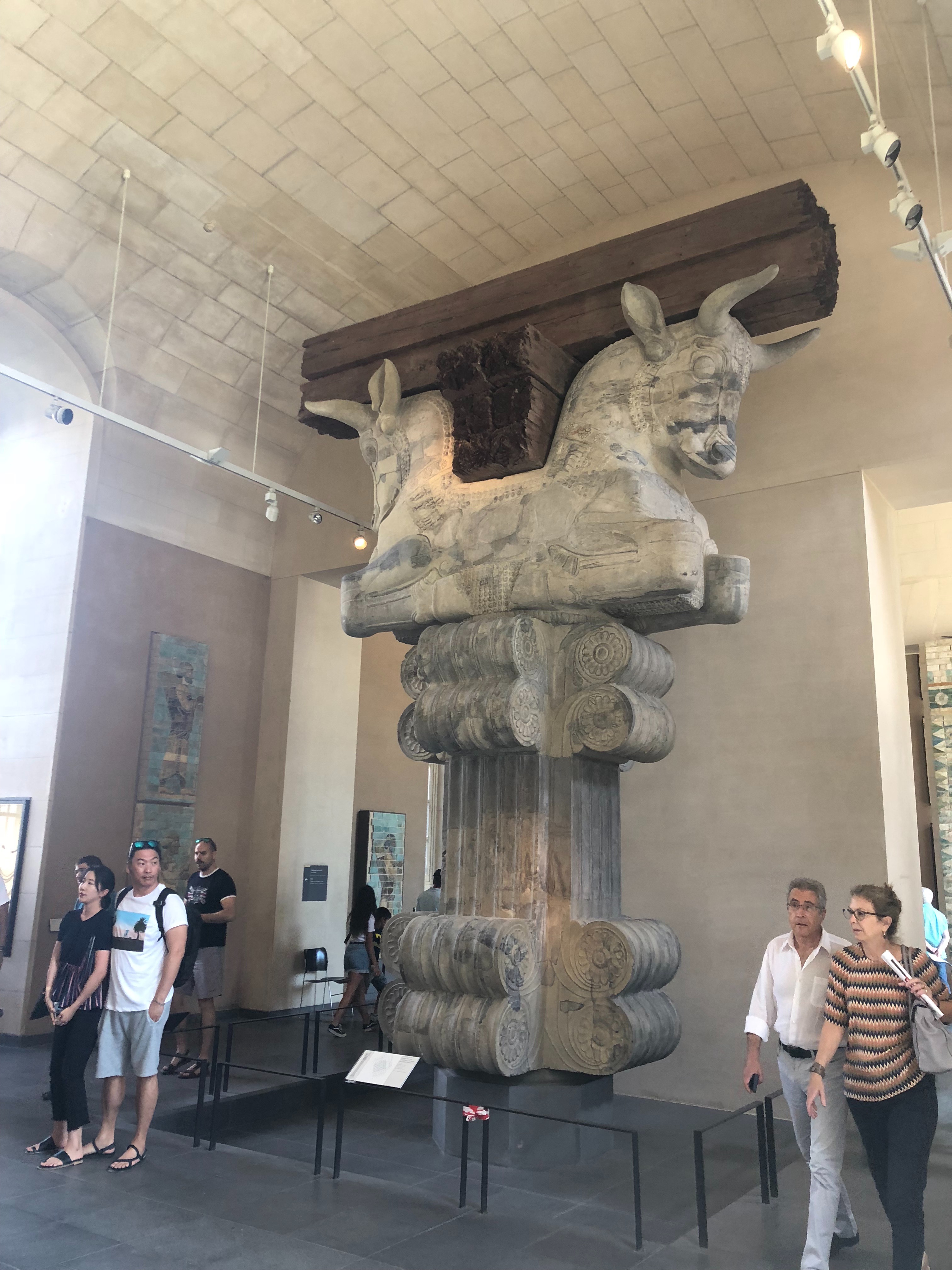 The second home of Cour Marly and Cour Puget, but also home to an interesting group of artifacts from the Middle East that you might not have noticed.
There are three sections: Mesopotamia, Iran, and Near Eastern. Near Eastern is broken up into another three with Persia, the Levant, and Mesopotamia (lots of Mesopotamia to go around). Near Eastern shares other wings but is most concentrated here in Richelieu.
This is the section I was most curious about after leaving the Louvre, because while I pride myself in being good with history, this was a part of the world I was unfamiliar with and felt the need to research more.
Level 1
Collections: Decorative Arts/Europe.
Popular Works: "The Emperor Triumphant," The Empress's Jewelry Cabinet, The Napoleon III Apartments.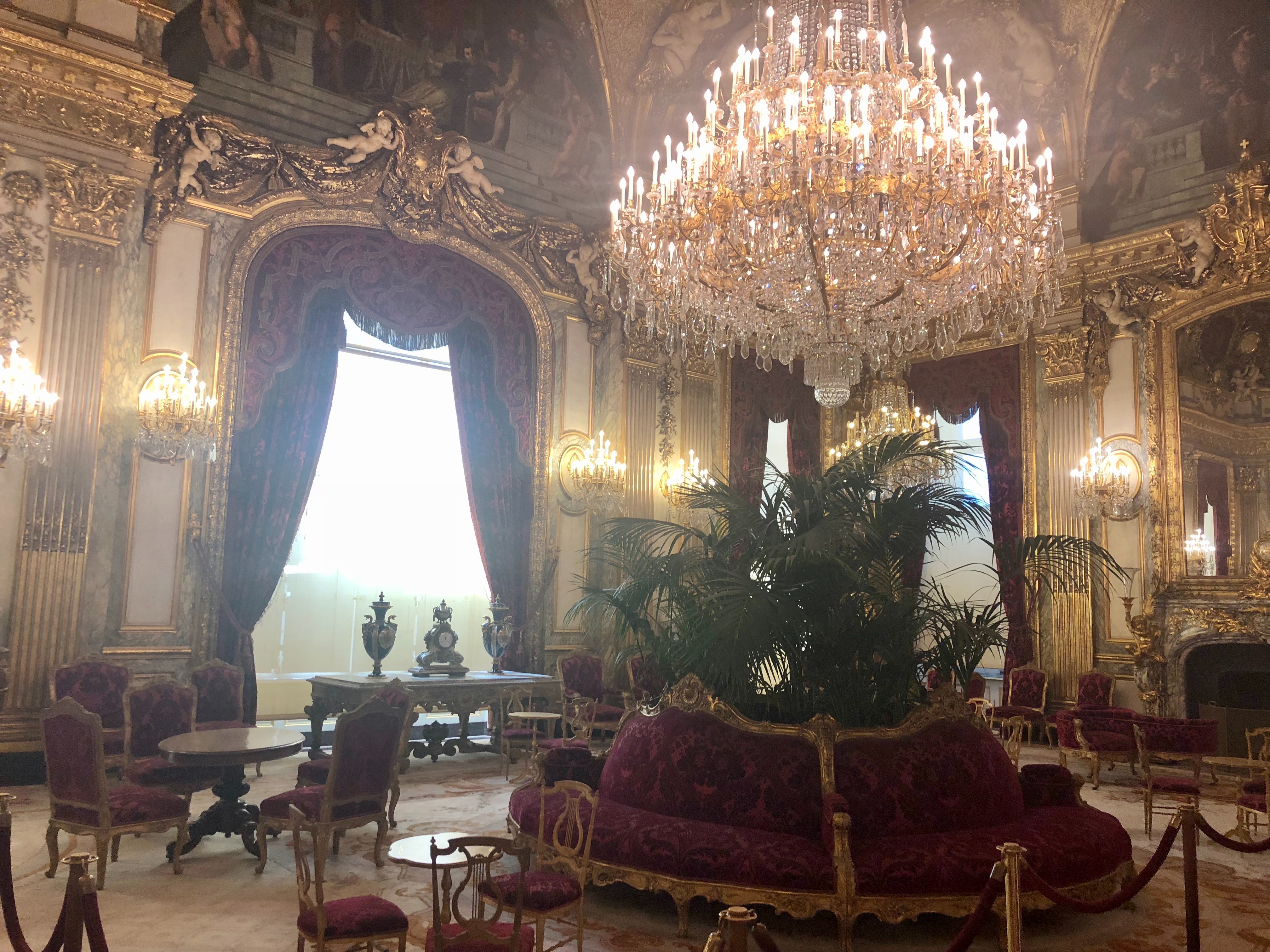 Napoleon III's Apartments were one of my favorite parts in the Louvre, partly because it's yet another immaculately preserved piece of history, partly because it's elaborate and gorgeous, but mainly because you can see insanely luxurious rooms nearly by yourself... because NOBODY knows it's there.
Really, the sheer opulence of these rooms is shocking. Versailles-type shocking. Please just do me a favor, go and visit them because it's actually hard to describe how insane they are. Then imagine yourself in period outfits with crazy hair, eating little cakes on the red cushions with a glass of bubbly in your hand and you'll be right in the middle of the dream I had the night after visiting.
Level 2
Collections: Paintings/Northern Europe, Paintings/France.
Popular Works: "The Lacemaker," "The Rape of the Sabine Women".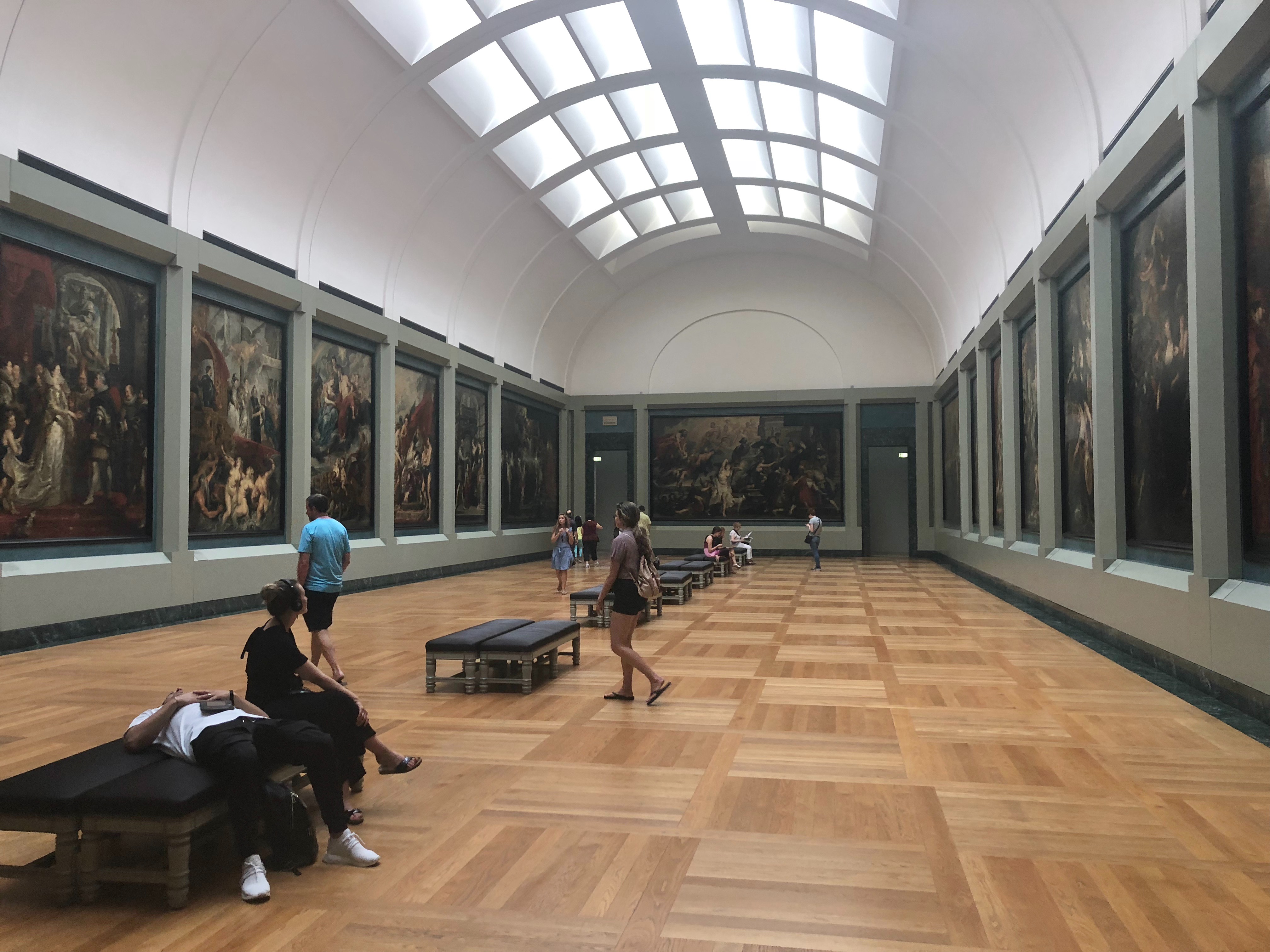 One of the things you'll notice about this floor is that compared to the other wings where paintings are hung, it is much less crowded (I sound like a broken record at this point with the "no crowds in Richelieu point"). There are of course, some truly gorgeous pieces, but this is where the less famous artists and pieces are hung.
Also, did you think I was kidding about people using this wing as a rest zone? Just look at that guy laying down! Also, Fun Fact, my mom fell asleep in the Denon Wing near the Mona Lisa once. How? I have no idea, but it happened and because I wasn't there, there is no photographic evidence of it.
VI. Food and Drink
The most dining options you'll have will be under the Louvre's pyramid, before you officially enter the museum. They have an array of options that offer different price ranges and even have a Starbucks (not sure how the French approved that American invasion but I appreciated it all the same). 
There are options inside the museum as well.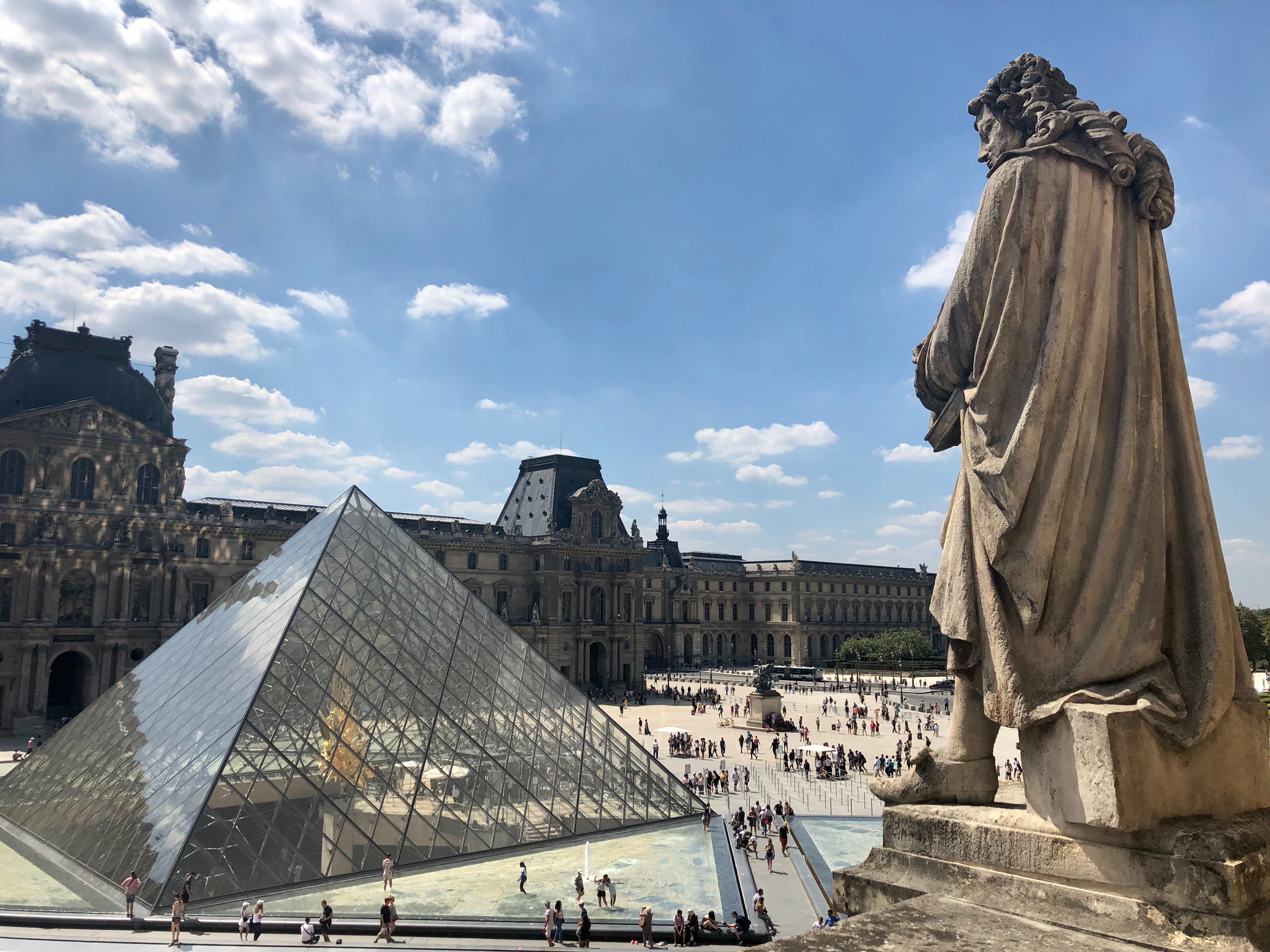 I recommend the Café Richelieu-Angelina, located on level 1 of the Richelieu wing. They have typical (albeit expensive), French cafe cuisine that you can try while on a terrace overlooking the glass pyramid. It is the least crowded of the cafe's so you can actually find a seat. 
Another option is Café Mollien, located on level 1 of the Denon wing. It has similar food to the Café Richelieu-Angelina but it is SO much more crowded and you'll likely have a hard time finding a spot and will wait a long time in line. 
If you're looking for something cheap and quick, there are takeaway counters with small snacks and drinks on Level -1 near the entrances of both the Denon and Richelieu wing.
VII. Closing Remarks
One of my last, and my absolute biggest tips for the Louvre is: LOOK UP!
By that, of course, I mean that you should admire the ceilings! Gorgeous ceilings are not only limited to France, but France just has a way of stopping you in your tracks with their ceilings. Often times I would find myself looking up more than looking at the art around me, fascinated by the exquisite detail etched into every surface.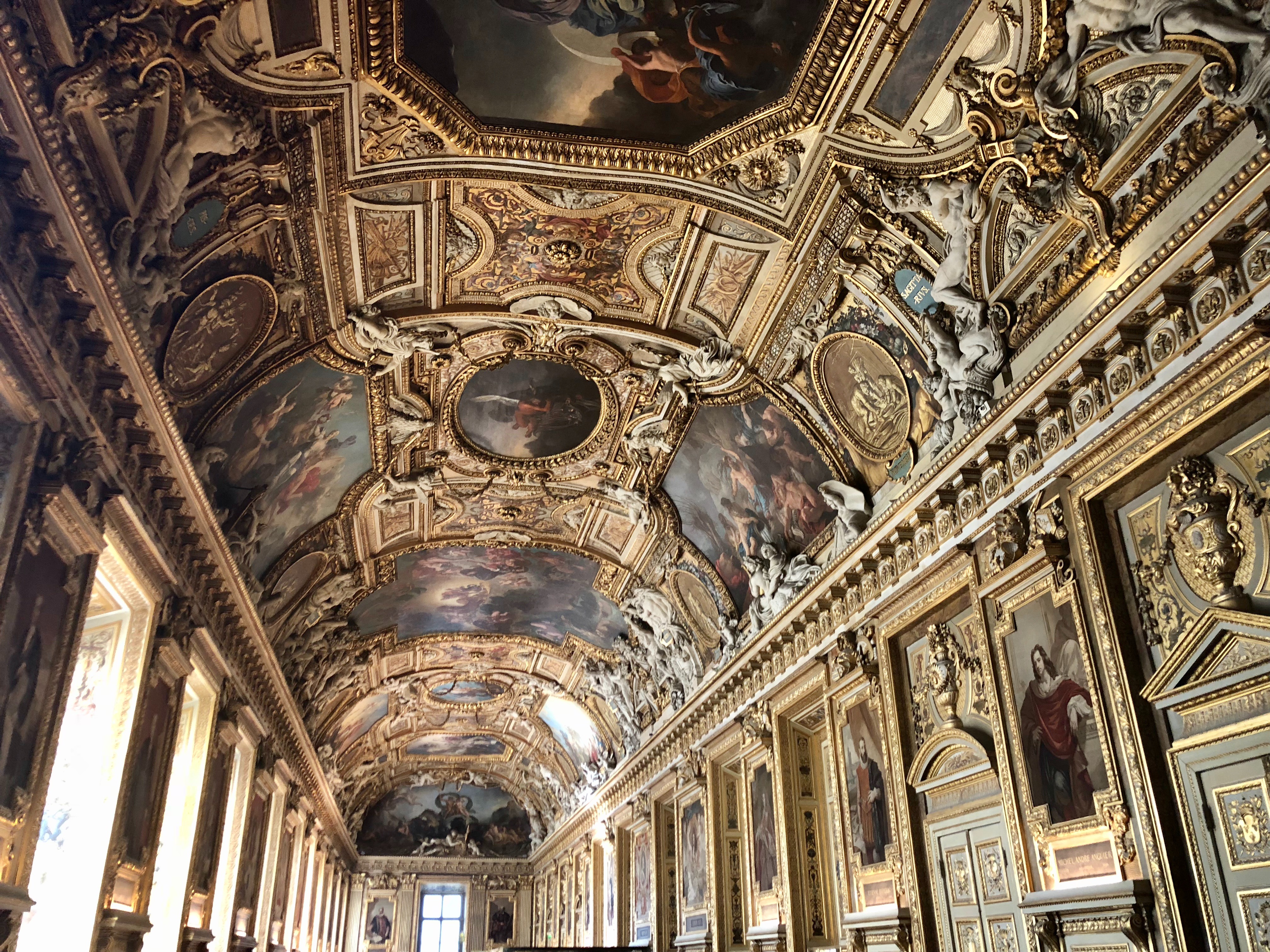 Again, don't be worried if you can't get to everything in the Louvre and need breaks. Pushing yourself will only decrease the enjoyment you find in the art.
The Louvre is truly a treasure and gift to the world. Hopefully, you'll be able to experience it more than once in your life, but for those who only have one day to spend, I hope this helps you along!